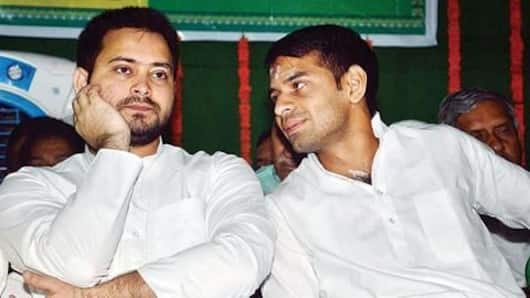 Yadav brothers fighting again? Now, Tej calls himself 'second Lalu'
Between Lalu Prasad Yadav's sons, younger son Tejashwi Yadav obviously has more political astuteness and has emerged as a valiant Opposition leader. But that hasn't stopped his elder brother Tej Pratap Yadav from taking digs at him.
In the latest episode of infighting between Yadav brothers, Tej called himself the "second Lalu Prasad Yadav".
Though he didn't take names, the hints were obvious.
Tej said he was as energetic as his father
Addressing a rally in Bihar's Jahanabad, Tej sort of staked claim to his father's legacy. The RJD patriarch is currently in jail, serving sentence for several corruption cases.
"He (Lalu) is a very energetic man. He used to attend 10-12 programs in a day. Now, leaders fall sick in just two to four programs," Tej said and declared himself second "Lalu Yadav in Bihar".
Without naming Tejashwi, Tej spoke about ticket distribution
Tej went on to say he was the blood of Lalu. "He is our idol as well as our guru," he said.
The 30-year-old leader added that RJD distributed Lok Sabha tickets to sycophants. He expressed confidence that his candidate, not RJD's pick, will win from Jahanabad.
Earlier, Tej launched "Lalu Rabri Morcha" after his accomplices didn't get seats. He then "returned" to family.
Love Politics news?
Stay updated with the latest happenings.
Yes, notify me
Saran constituency caused trouble between the brothers
Bad blood has been simmering between Yadav brothers after Tejashwi fielded Tej's estranged father-in-law Chandrika Rai from Saran, the constituency of Lalu.
Tej had filed for divorce from his wife Aishwarya, just six months after the wedding in 2018.
He "ran away" after his family didn't support him, and Rai's candidature rubbed salt on his wounds. Tej announced he would campaign against him.
Meanwhile, Rai said Tej played a prank on media
When Rai was asked to comment on Tej's plans, he said the latter played a prank on April 1 by announcing he would oppose the candidature.
There were reports that Tej wanted mother Rabri Devi to contest from Saran.
On this, Rai said, "She never wanted to contest this time. She had said that after last elections. She is now looking after the state."
Rai also hoped Tej and Aishwarya's marriage would work out
"The whole world rests on hope. At times, the worst of marriages work out and best of marriages fail. So, I am very hopeful that things will be sorted out soon," Rai added.