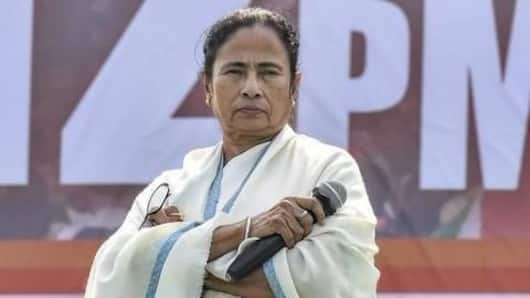 Final phase of elections: Violence takes over West Bengal, again
The 2019 general elections were held in West Bengal in all seven phases. During all the phases, the state was in news for rampant violence.
Staying true to the trend, stray incidents of violence were reported on Sunday as well. Nine Lok Sabha constituencies of West Bengal voted in the last phase but polling was far from peaceful.
Here's what happened.
Bombs were thrown as voters stood in queues
Polling got delayed in various booths due to technical glitches in EVMs. In some booths, VVPATs were not functioning properly.
Meanwhile, as voters queued up in Raidighi of South 24 Parganas district under Mathurapur constituency, bombs were hurled.
Reports of bombing also emerged from Gilaberia area in Deganga of North 24 Parganas district under Barasat constituency.
Fortunately, no casualties or serious injuries were reported.
BJP candidate from Basirhat claimed police helped in rigging polls
Sayantan Basu, whom BJP has fielded from Basirhat constituency, claimed polling was being rigged under police's watch. He claimed people came out to vote at 4:30 AM.
"There are a lot of allegations of muscle flexing and rigging in areas such as Sandeshkhali, Hingalganj, and Baduria. The inspector-in-charge of Shashan police station is virtually helping to rig in favor of the TMC," he added.
Love Politics news?
Stay updated with the latest happenings.
Yes, notify Me
Voters staged protest after Trinamool workers allegedly stopped them
West Bengal: Voters hold protest outside polling station number 189 in Basirhat, allege that TMC workers are not allowing them to cast their vote. BJP MP candidate from Basirhat, Sayantan Basu says, "100 people were stopped from voting. We will take them to cast their vote." pic.twitter.com/9qoXEi8YDV

— ANI (@ANI) May 19, 2019
Separately, Trinamool's Mala Roy slammed central forces
Meanwhile, Mala Roy, whom Trinamool has fielded from Kolkata South constituency, claimed central forces didn't allow her to enter a polling station in Mudiali.
She claimed voting was halted there for some 45 minutes, prompting her to visit. She added she would complain to Election Commission about this.
Notably, Basu revealed he has already lodged 150 complaints with the polling watchdog.
Trinamool leader claimed EC was using faulty machines
Another Trinamool leader berated Election Commission. Sukhendu Sekhar Ray, who represents the party in the Rajya Sabha, accused EC of using old EVMs to deliberately delay polling.
"Rs 3,173 crores sanctioned by the Government in April 2017 for purchase of 16 Lakh new EVMs," he reminded on Facebook.
He added if voters leave in disgust, the turnout will be affected severely.
All phases of polls in Bengal were soaked in violence
The way in which elections were conducted in Bengal is concerning. Despite the presence of central forces at almost every polling booth during all phases, violence couldn't be contained.
Booth capturing, intimidation of voters, clashes between workers of rival parties, were reported during all phases.
In most cases, BJP claimed Trinamool fanned violence. But the latter put the blame on the saffron party.
Even high-ranking poll officer lamented over condition in Bengal
To recall, Ajay V Nayak, the special observer of Election Commission in West Bengal, also commented on sporadic incidents of poll violence.
Last month, Nayak said Bengal became similar to how Bihar was 10-15 years ago.
"During that time in Bihar total deployment of central forces at the booths was required. Now it is required in West Bengal," he had said.
Interestingly, Bengal's battle is important for both BJP and Trinamool
Bengal has 42 Lok Sabha seats and is second only to Uttar Pradesh. The two major players in the state are BJP and Trinamool.
The saffron party is hoping to scoop a decent number of seats from Trinamool-governed state in order to make up for losses it may face in UP. And for Mamata Banerjee's party, it is a prestige battle.
Results will be declared on May 23.
How many Lok Sabha seats does West Bengal have?
Asked 2019-05-19 14:49:07 by Vishal Chatterjee
Answered by NewsBytes
West Bengal has 42 Lok Sabha seats and is only second to Uttar Pradesh.
In how many phases were polls held in West Bengal?
Asked 2019-05-19 14:49:07 by Hansika Malhotra
Answered by NewsBytes
The 2019 general elections were held in West Bengal in all seven phases.
How many constituencies voted in seventh phase of polling in West Bengal?
Asked 2019-05-19 14:49:07 by Aradhya Rangan
Answered by NewsBytes
Nine Lok Sabha seats voted in West Bengal during the last phase of polls, i.e., May 19.
Why is Bengal important for BJP?
Asked 2019-05-19 14:49:07 by Ishan Tata
Answered by NewsBytes
BJP had a dismal presence in Bengal until a few years ago. The party is hoping to win few seats from Bengal to make up for losses it may face in Uttar Pradesh.