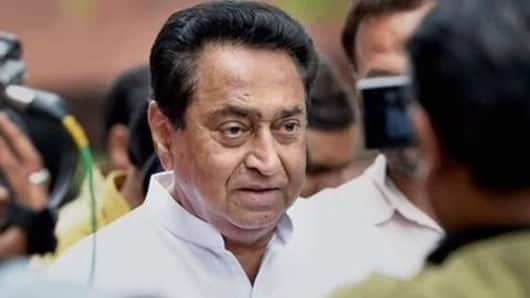 Madhya Pradesh: Congress' government is in minority, BJP tells Governor
Merely six months after Congress formed a government in Madhya Pradesh and appointed Kamal Nath as the Chief Minister, the grand old party has run into trouble.
The Bharatiya Janata Party, which ruled the central state for 15 years, has written to Governor Anandiben Patel claiming that Nath's government doesn't have a majority.
The party wants Patel to call a special session.
Here's more.
Backstory: Congress failed to get majority despite anti-incumbency
The December 11 results of assembly polls brought a sigh of relief for Congress. In the 230-member strong assembly, Congress won 114 seats, when the majority mark was 116. With the help of SP and BSP, Congress formed the government.
Meanwhile, BJP won 109 seats under Shivraj Singh Chouhan's leadership, despite anti-incumbency.
While Congress celebrated the win, it wasn't really a victory.
BJP leader explained why they want a special session
In the letter to Patel, Leader of Opposition and BJP member Gopal Bhargava wrote, "I am writing a letter to the Governor for convening a special session of MP Assembly shortly."
He added the Opposition wanted to discuss important issues like farm loan waivers and also test the strength of Kamal Nath's government.
Meanwhile, Chouhan said they won't try to bring down the government.
Love Politics news?
Stay updated with the latest happenings.
Yes, notify Me
Chouhan made his intentions clear, said Scindia left the country
"We will not try to dislodge the government but the Congress is a divided house. They are in minority and even the minority is divided... (Jyotiraditya) Scindia has gone outside the country even before the last phase," Chouhan said.
Earlier, Mayawati has said she might withdraw support
Notably, politics in MP has become a bone of contention between BSP and Congress.
Last month, BSP's Lokendra Singh Rajput switched sides and joined Congress saying he supports Scindia.
BSP chief Mayawati fumed at this and said she might reconsider her support to Nath. Later, Nath said, "Mayawati's party has the same goal as us... that is the exit of the BJP."
Divide in MP Congress has gained limelight recently
After BJP claimed MP government doesn't have the numbers, Congress shot back saying they don't need to pass the floor test every week.
However, cracks in MP Congress have been more than visible recently. During Lok Sabha campaigning, Scindia never left his home turf Guna, while Digvijaya Singh concentrated on Bhopal.
As a result, cadres were left alone and couldn't be mobilized.
Exit polls suggested Congress will get massive blow in MP
BJP's demand to put Nath's government to test comes a day after exit polls for 2019 elections were released.
Pollsters said that out of 29 Lok Sabha seats, BJP will win 26-28. This prediction contradicts the trend that the party which wins assembly polls has an advantage in parliamentary elections.
But seems Congress is all set to lose regained ground because of infighting.
How many seats did Congress win in MP in assembly polls?
Asked 2019-05-20 16:39:20 by Hansika Jhadav
Answered by NewsBytes
Congress won 114 seats out of the 230 assembly seats in Madhya Pradesh.
Who wrote a letter to governor?
Asked 2019-05-20 16:39:20 by Pari Yadav
Answered by NewsBytes
The letter was written by the leader of opposition Gopal Bhargava.
How did Congress react on the letter?
Asked 2019-05-20 16:39:20 by Surabhi Rangarajan
Answered by NewsBytes
Congress said the government is in majority and it doesn't need to pass the floor test every week.
What did exit polls predict for MP?
Asked 2019-05-20 16:39:20 by Pari Mistry
Answered by NewsBytes
As per exit polls, BJP will win 26-28 out of 29 Lok Sabha seats in MP.