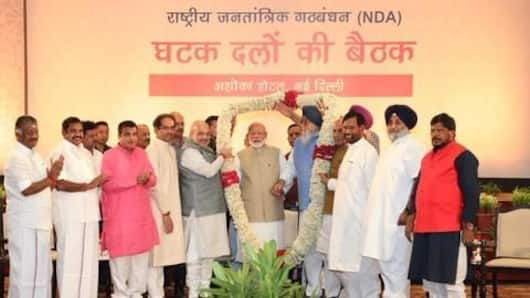 Before counting, Shah hosts dinner, PM Modi thanks NDA allies
As the nation braces itself for Lok Sabha elections' counting on Thursday, May 23, BJP moved to display its strength.
On Tuesday, party president Amit Shah hosted a dinner for NDA allies at "The Ashok Hotel" of New Delhi.
Prime Minister Narendra Modi, who is hoping to take office again, was also present and he thanked allies for lending support.
Here's what went down.
'Aabhar Milan' was organized to appreciate allies
The dinner was called Aabhar Milan and was attended by key leaders including JD(U) chief and Bihar Chief Minister Nitish Kumar, Tamil Nadu Chief Minister and AIADMK leader Edappadi K Palaniswami, SAD leaders Parkash Singh Badal and Sukhbir Singh Badal and LJP leader and Union Minister Ram Vilas Paswan.
BJP joined hands with 39 parties this time and 36 allies showed up at dinner.
Thackeray returned from abroad for dinner, missing allies pledged support
After the dinner, Union Home Minister Rajnath Singh said the three allies who were absent have pledged their support in writing.
Notably, Thackeray, who was out of India, flew back to Mumbai and then came to Delhi just to attend the meet.
Later, Shah claimed that since NDA under PM Modi has served India well, citizens will give them a huge mandate again.
Love Politics news?
Stay updated with the latest happenings.
Yes, notify me
PM spoke about controversy surrounding EVMs, heaped praises on NDA
Thanking allies, PM Modi said that NDA "represents the true soul of India." He also expressed concerns over the "needless controversy" surrounding EVMs.
Quoting PM Modi's remarks, Union Minister Narendra Singh Tomar told media, "I have campaigned in assembly elections and undertaken political tours for the party in different elections. When I toured during these polls, it seemed that I was on a pilgrimage."
Meanwhile, Shah and Modi signed 'blueprint' for NDA 2
At the dinner meeting, Shah and PM Modi also signed a resolution which is meant to serve as a blueprint for NDA 2. Needless to say, both power centers of BJP are quite confident of winning.
The resolution was built around the three themes of national security, nationalism, and development.
Rajnath Singh said NDA hopes to speed up progress in the next five years.
Farmers' income, national security found mention in resolution
One of the key points of the resolution was doubling the farmers' income by 2022, Singh added.
He said NDA is firm on matters of national security and that India is no longer taking the soft route in diplomacy.
"The resolution also mentions how India influenced the global discourse especially in the areas of counter-terrorism, money laundering, and global warming," Singh went on.
Where was the dinner hosted?
Asked 2019-05-22 09:26:35 by Pari Das
Answered by NewsBytes
The dinner for NDA allies was held at The Ashoka Hotel of New Delhi.
Who all attended the dinner?
Asked 2019-05-22 09:26:35 by Ankita Singh
Answered by NewsBytes
The dinner was attended by several key politicians like Nitish Kumar, Uddhav Thackeray, Parkash Singh Badal, Ram Vilas Paswan, Nitin Gadkari, and Rajnath Singh.
With how many parties did BJP ally for 2019 Lok Sabha elections?
Asked 2019-05-22 09:26:35 by Aaryan Chattopadhyay
Answered by NewsBytes
BJP joined hands with 39 parties this time.
When will election results be declared?
Asked 2019-05-22 09:26:35 by Arjun Balasubramanium
Answered by NewsBytes
Election results will be declared on May 23. The counting will begin at 8 AM.