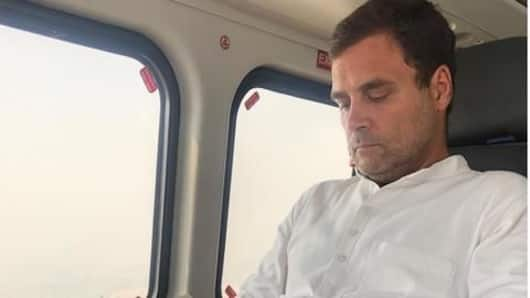 Rahul Gandhi's negative campaigning didn't work: Senior Congress leaders
From 2014 to 2019, Congress managed to add just 8 seats to its Lok Sabha tally. In last parliamentary polls, Congress won 44 seats and after five years of campaigning, it managed to win 52 seats.
The humiliating defeat of the grand old party has raised obvious questions about the leadership of Rahul Gandhi.
And now senior Congress leaders have given their opinions.
Rahul should have given "Chowkidar Chor Hai" a rest
A couple of senior Congress leaders told Indian Express, that Rahul's negative campaign, framed around "Chowkidar Chor Hai" worked against the party.
The party should have also been more sensitive towards Pulwama attack and Balakot airstrikes which followed, the leaders said.
One former Chief Minister went as far as saying that the party's revival under Rahul would be extremely difficult.
Former CM said people don't want entitlement politics anymore
"Because now a huge antipathy has been developed towards this whole entitlement politics. Because I belong to a family, I can be a leader, my sister can be leader...you must accept that all. That people, especially younger generation, is not accepting," the former CM said.
Love Politics news?
Stay updated with the latest happenings.
Yes, notify Me
Congress should have done something about irresponsible comments
Another former Union Minister said the casual remarks which leaders passed benefited BJP. To recall, senior Congress leader Sam Pitroda questioned Balakot strikes and said one shouldn't "jump" onto an entire nation due to actions of a few.
After the irresponsible comments, the party should have done damage control, the leader opined.
Another leader said people voted for PM Modi and not candidates.
One leader asked why was Priyanka given a top post
Another former Chief Minister said Rahul kept "himself above party". The decision to make sister Priyanka Gandhi Vadra, the general secretary also backfired.
"How can you anoint Priyanka as party General Secretary one fine day when many workers are tirelessly working for the party for years without any organizational position," the leader asked.
Meanwhile, AICC secretary Manickam Tagore said Rahul should have been declared Prime Ministerial candidate.
From Rahul's hug to Priyanka's candidature, some decisions were poor
"Right from hugging the Prime Minister in Parliament to his hesitation about contesting in Wayanad or even the confusion regarding fielding Priyanka in Varanasi reflected poorly on his decision-making," another leader added.
NYAY scheme should have been communicated in a better way
In fact, NYAY scheme also spelled troubles for the party, said a former CM.
"A scheme like NYAY requires that it be professionally communicated to the poor in very simple terms... at many places, the poor thought NYAY had something to do with legal justice," the leader added.
Separately, former Assam Chief Minister Tarun Gogoi said Congress can't show itself as an anti-Hindu party.
Modi has changed tactics, he plays on emotions: Gogoi
"People have gone for issues, certain principles. Now Modi has changed the whole tactics. He is not going for the main issues. He plays the sentiment card much more...emotionally he wants to win over the people," Gogoi went on.
Separately, CWC meeting today to discuss what went wrong
Congress needs more than introspection after being completely wiped out. For the same purpose, 52 members of CWC are meeting today to discuss the embarrassing performance.
UPA Chairperson Sonia Gandhi, former Prime Minister Dr. Manmohan Singh, chief ministers of Madhya Pradesh, Rajasthan, and Chhattisgarh are attending the meeting.
Priyanka and Rahul are also a part of it.
How many seats did Congress win in 2019 Lok Sabha polls?
Asked 2019-05-25 14:05:29 by Devansh Sarin
Answered by NewsBytes
Congress won 52 seats in Lok Sabha polls.
How many seats did Congress win in 2014 Lok Sabha polls?
Asked 2019-05-25 14:05:29 by Shreya Patil
Answered by NewsBytes
In last parliamentary polls, Congress won 44 seats.
Who all will attend CWC meeting?
Asked 2019-05-25 14:05:29 by Tejas Chatterjee
Answered by NewsBytes
The CWC meeting will be attended by 52 Congress leaders, including Sonia Gandhi, Dr. Manmohan Singh, Priyanka Gandhi Vadra, and Rahul Gandhi.
Will Rahul Gandhi resign?
Asked 2019-05-25 14:05:29 by Sanvi Das
Answered by NewsBytes
Though there are many reports which claim Rahul will resign, nothing has been confirmed yet.