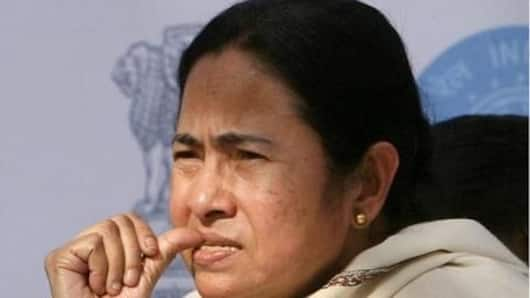 Stung by BJP's rise, Bengal CM Banerjee calls emergency meeting
The Bharatiya Janata Party pulled off the impossible these Lok Sabha elections. Not only did the party trump its 2014 tally in Lok Sabha, but it also made inroads in West Bengal, making dents in Mamata Banerjee's citadel.
Last time, Trinamool won 34 Lok Sabha seats and this time it settled for 22.
And now, West Bengal's CM has called an emergency meeting.
Bengal witnessed a high-voltage battle between PM Modi and Banerjee
The elections for 42 Lok Sabha seats of Bengal were divisive and violent. The state voted in all seven phases under a cloud of violence.
During campaigning, Banerjee and Prime Minister Narendra Modi traded barbs almost daily. She kept referring to PM Modi as "expiry PM", while he said Bengal needs to see development.
Results showed that BJP's campaigning struck a chord with voters.
Stunned by results, Banerjee tweeted a poem
Giving her first reaction to the results, Banerjee wrote on Twitter that not all "losers are losers". After the initial tweet, she chose to remain quiet.
However, on Friday, Banerjee tweeted a strong-worded poem to slam BJP's "communalism".
"There is aggression and tolerance in every religion. I don't believe in selling religious aggression, I believe in a religion that draws from humanism," she wrote.
Love Politics news?
Stay updated with the latest happenings.
Yes, notify me
Banerjee will discuss what went wrong with party leaders
In today's meeting, Banerjee will take stock of the party's dismal performance and the challenges it faces before 2021 assembly polls. She is also expected to congratulate the winners.
"District presidents and other senior leaders will also be present at the meeting. We will discuss the results of the election and take stock of both our weaknesses and strengths," a senior leader said.
Some Trinamool leaders remained optimistic, others blamed Left
Despite the results, some Trinamool leaders aren't losing hope. Firhad Hakim, Urban Affairs Minister and Mayor of Kolkata, said things would go back to normal by 2021.
Separately, Subrata Mukherjee, who lost the Bankura seat to BJP's Subhash Sarkar, accused Left of voting for the saffron party.
"This low level politics has to be exposed," Mukherjee alleged. But CPI(M) denied the allegations.
Trinamool suspended Mukul Roy's son, he will join BJP
Notably, Banerjee has already started taking steps to ensure 2019 results aren't repeated. On Friday, the party suspended MLA Subhrangshu Roy for six years.
Roy, who is the son of Trinamool rebel Mukul Roy, was suspended for anti-party activities.
Soon after his suspension, Roy Jr. said he will join BJP (just like his father) and added he was looking forward to "new innings".
Will breathe freely, said Roy after suspension
"Now, I will breathe freely. Many in the Trinamool feel suffocated. My father has advised me to be careful, as I may be implicated in a false criminal case, or may be attacked... I will join the BJP within two to three days," he added.
How many Lok Sabha seats does West Bengal have?
Asked 2019-05-25 16:26:32 by Aaradhya Khan
Answered by NewsBytes
There are 42 Lok Sabha seats in West Bengal.
How many seats did BJP win in Bengal in 2019?
Asked 2019-05-25 16:26:32 by Aaryan Shah
Answered by NewsBytes
BJP won 18 seats in Bengal.
How many Lok Sabha seats did Trinamool win?
Asked 2019-05-25 16:26:32 by Ayaan Rangarajan
Answered by NewsBytes
Trinamool won 22 out of 42 Lok Sabha seats. In 2014, the party won 34 seats.
Who all will attend the emergency meeting?
Asked 2019-05-25 16:26:32 by Tejas Mittal
Answered by NewsBytes
The emergency meeting will be attended by Trinamool's district presidents, senior leaders, and victorious candidates.