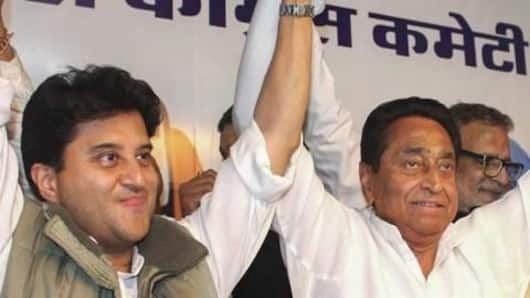 Congress v/s Congress in MP: Pressure on CM Kamal Nath
In December'18, Congress defeated BJP in Madhya Pradesh, albeit by a thin margin. The win made senior leader Kamal Nath the Chief Minister of the central state.
So, when Lok Sabha elections were held, Congress hoped to repeat its performance but didn't.
Out of 29 Lok Sabha seats, BJP won 28. The wipe-out has now started infighting in MP Congress.
Here's what we know.
Congress won only one seat in Madhya Pradesh
BJP improved its tally from 27 to 28. The only seat which Congress won was Chhindwara, from where Kamal's son Nakul was fielded.
The poor performance naturally invited ire of Congress President Rahul Gandhi.
At the CWC meeting on Saturday, Rahul is learned to have pulled up Kamal and Ashok Gehlot (Rajasthan's CM), for concentrating on their sons and ignoring other constituencies.
Kamal is walking on thin ice
For Kamal, the important challenge is to keep his government intact. The state government is facing a direct challenge from BJP.
In 230-member strong assembly, Congress won 114 seats, when the majority mark was 116. The government was formed with SP and BSP's help.
Meanwhile, BJP, led by Shivraj Singh Chouhan, won 109 seats. Earlier this month, BJP claimed Kamal's government was in minority.
Love Politics news?
Stay updated with the latest happenings.
Yes, notify me
Facing challenges from inside and outside, Kamal got to work
On Sunday, Kamal held a bunch of meetings. He met his cabinet colleagues, to ensure the flock stays together and then had a word with other leaders to assess the crushing defeat.
He swung to action after Jyotiraditya Scindia's loyalists suggested he should be at the helm of affairs.
According to them, Scindia, who incidentally lost his bastion Guna, is "fit for the job".
There were rumors that Kamal might resign, he clarified later
Many within party ranks opined that ignoring young guns like Scindia and Sachin Pilot was wrong.
Earlier, party leader Deepak Babaria claimed Kamal had offered to resign from the post of MP Congress chief.
As the statement made it to headlines, Kamal was forced to issue a clarification. He said he, in fact, offered to resign after Congress won assembly polls, and not now.
After important meeting, Congress realized what went wrong
Congress assessed its defeat and came to the conclusion that BJP's narrative trumped them.
"We believe the BJP's hyper-nationalism and Hindutva planks helped it win the elections. The NDA has not done anything worthwhile in the last 5 years," state minister Jaivardhan Singh told PTI.
Singh went on to say all ministers are supporting Kamal and are ready to face floor test too.
How many seats did Congress win in MP in assembly polls?
Asked 2019-05-27 09:58:30 by Anonymous
Answered by NewsBytes
Congress won 114 seats out of the 230 assembly seats in Madhya Pradesh.
How many seats did BJP win in Lok Sabha polls in MP?
Asked 2019-05-27 09:58:30 by Anonymous
Answered by NewsBytes
Out of 29 Lok Sabha polls, BJP won 28.
Who was fielded from Chhindwara?
Asked 2019-05-27 09:58:30 by Anonymous
Answered by NewsBytes
Kamal Nath's son Nakul was fielded from Chhindwara and he won.
Where did Jyotiraditya Scindia lose polls from?
Asked 2019-05-27 09:58:30 by Anonymous
Answered by NewsBytes
Jyotiraditya Scindia lost polls from Guna, his home turf.