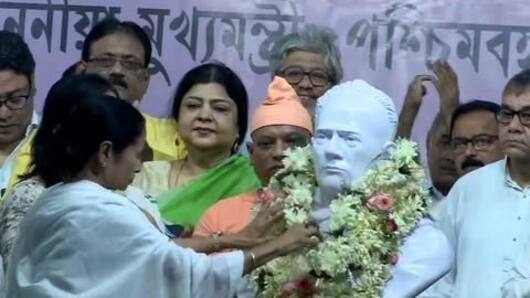 Banerjee unveils bust of Vidyasagar's statue: Why does it matter
Almost a month after the statue of 19th-century reformer Ishwar Chandra Vidyasagar was vandalized in West Bengal's Kolkata, Chief Minister Mamata Banerjee unveiled a bust on Tuesday.
The inauguration happened at Hare School Ground, and from there the bust was taken to Vidyasagar College to be re-installed at the exact place where the legend was insulted.
Here is what happened.
Vidyasagar has sentimental value for people of Bengal
Vidyasagar, who was a reformer, writer, painter, and philanthropist, evokes many emotions in Bengal. He fought for widow remarriage and due to his efforts Widow Remarriage Act was passed in July 1856. He also spread awareness about polygamy and worked in the education center.
Backstory: In peak election season, Vidyasagar became a poll issue
For the uninitiated, Trinamool and Bharatiya Janata Party workers had clashed during the roadshow of Amit Shah in May.
In the violent clashes, the bust of Vidyasagar's statue got vandalized. Since elections were underway, it became a poll issue.
Both the parties leveled allegations on one another, in hope of fanning emotions.
Love Politics news?
Stay updated with the latest happenings.
Yes, notify Me
Modi promised to rebuild statue, Mamata said: 'No, thanks'
Two days after the incident, Prime Minister Narendra Modi said he would build a grand statue of Vidyasagar. In response, Mamata said Bengal would re-install the statue on its own as the state "doesn't beg" and they don't need BJP's money.
Separately, Kolkata Police constituted an SIT to probe the vandalizing incident.
The investigating team was formed on May 14.
Mamata was accompanied by poets and writers in her march
As promised, Mamata unveiled the statue and sent a strong message to BJP.
The 64-year-old leader was accompanied by celebrities, poets and writers, in her march towards the Vidyasagar college, where the bust would be installed.
Meanwhile, state police have arrested a BJP worker named Rakesh Singh for allegedly vandalizing the statue. He was picked up from Kolkata Airport and is in police custody.