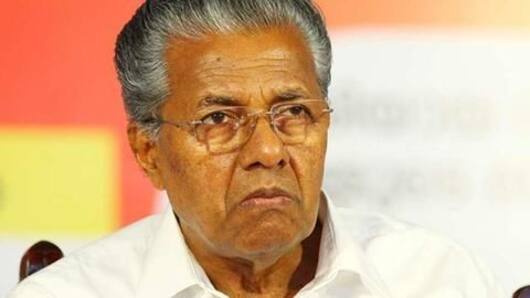 Kerala: 119 booked for 'abusing' CM Pinarayi Vijayan
At a time when everyone speaks about the sanctity of free speech, disturbing data has surfaced from Kerala.
In what shows the Left's 'intolerance' (a term which has gained immense prominence), 119 people have been booked in Kerala in the last three years for 'abusing' Chief Minister Pinarayi Vijayan.
Apparently, these people 'humiliated' Vijayan on social media.
Here's all about it.
Cases were filed against government employees too
The alarming data was revealed by the Chief Minister himself in response to a query of United Democratic Front (UDF) leader MK Muneer.
Muneer asked the starred question earlier this year, and the issue was discussed in the legislative assembly on Tuesday.
Reportedly, 41 out of the 119 people are government/quasi-government employees and have been booked for remarks against Vijayan and his Cabinet.
Separately, 26 were arrested for abusive comments during Sabarimala uproar
Of the aforementioned 41 people, cases have been filed against 12 and department-level action has been initiated against 29.
In yet another reply, Vijayan said 26 people were arrested for posting abusive comments or videos against him during the Sabarimala uproar.
In October 2018, a case was filed against a woman for hurling casteist slurs at Vijayan.
And the list goes on.
Love Politics news?
Stay updated with the latest happenings.
Yes, notify Me
People have been arrested for silliest of things
In Vijayan's rule, people have been put behind bars for frivolous issues.
Last year, a 45-year-old man was arrested for allegedly circulating a morphed picture of Vijayan, carrying the slogan Ellam Shariyakum. The term which is translated to "Will make everything alright" is Left's election slogan.
Before that, another man was booked for targeting Vijayan by allegedly singing obscene songs and for 'criminal intimidation'.
Obviously, Opposition slammed Vijayan, likened him with Adityanath
The data created an uproar in the Assembly with Opposition parties flaying with Vijayan.
Muneer equated Vijayan with his Uttar Pradesh counterpart Yogi Adityanath, saying there isn't any difference between the two.
"Any comment or criticism made against Pinarayi Vijayan is met with police action. But no action is taken on complaints raised by the Opposition," Muneer said.
All politicians know the art of suppressing dissent
Whether it is the South or North, politicians have really made a mockery of democracy.
Last week, a journalist was arrested in Uttar Pradesh for posting 'defamatory' video against Adityanath. He was released on directions of the Supreme Court.
On Tuesday, another scribe was thrashed, stripped, and abused by railway cops in Shamli while he was covering a train derailment story.
Why were cases filed against 119 people?
Asked 2019-06-13 12:02:11 by Paridhi Gupta
Answered by NewsBytes
In Kerala, 119 people were booked for abusing Chief Minister Pinarayi Vijayan.
Who revealed the data?
Asked 2019-06-13 12:02:11 by Aanya Pawar
Answered by NewsBytes
This data about 119 people being booked was revealed by Pinarayi Vijayan in a response to a question of MK Muneer.
Why was a journalist arrested in Uttar Pradesh?
Asked 2019-06-13 12:02:11 by Chirag Shah
Answered by NewsBytes
A journalist, identified as Prashant Kanojia, was arrested for posting 'defamatory' video against Yogi Adityanath.
Why was Prashant Kanojia released?
Asked 2019-06-13 12:02:11 by Ridhi Singhal
Answered by NewsBytes
Prashant Kanojia was released on the orders of the Supreme Court.