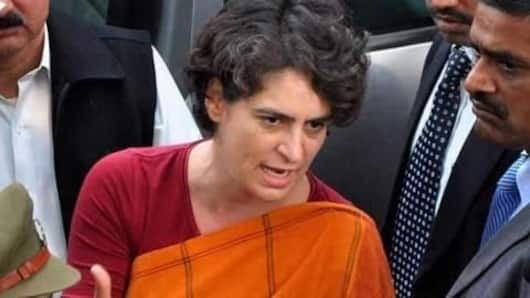 After humiliating poll defeat, Priyanka Gandhi criticizes Congress workers
Congress was completely decimated in the 2019 Lok Sabha elections. Not just that, the Bharatiya Janata Party returned to power with a better tally than 2014.
Interestingly, Priyanka Gandhi Vadra, who was widely referred to as trump card of Congress, also failed to deliver results.
However, Priyanka feels the responsibility of the loss, is not on the 'absent' leadership but cadres.
Seriously, what now?
Backstory: BJP won 303 seats, Congress won just 52
Riding on Prime Minister Narendra Modi's aura, BJP won 303 seats. NDA, in total, won 352.
Congress won 52 seats and in 18 states/Union Territories it failed to win even one seat. That Rahul Gandhi lost his bastion Amethi to Smriti Irani also stung Congress.
Subsequently, Rahul offered to resign but the Congress Working Committee didn't accept it. The decision is still pending.
Priyanka said she would find out "who didn't work"
On Wednesday, Priyanka visited Raebareli, the only constituency which Congress won in 80-seated UP. Now, Raebareli has always been Sonia Gandhi's citadel, so her win isn't exactly celebratory.
Priyanka accompanied Sonia in her rally and looked angry. Not mincing her words, she said, "I will find out about those who did not work for the party in the elections."
Crying over spilled milk?
Love Politics news?
Stay updated with the latest happenings.
Yes, notify Me
People of Raebareli helped in elections: Priyanka
"The truth is that this election was won with the help of Sonia Gandhi and the people of Raebareli. Those who have worked for the party know it in their hearts and I will find out all those who have not," an upset Priyanka said.
Separately, Sonia flayed with BJP
Meanwhile, Sonia slammed BJP, she claimed all "types of tactics" were deployed to win polls.
"Everyone in this country knows whether it was moral and immoral what happened in the elections. I feel this is the greatest misfortune that limits of dignity are crossed to retain the power," she said.
Well, voters chose BJP, how about you focus on restructuring Congress, Mrs. Gandhi?
How many seats did Congress win in 2019 Lok Sabha polls?
Asked 2019-06-13 17:43:08 by Trishla Dasgupta
Answered by NewsBytes
Congress won 52 seats in 2019 Lok Sabha polls.
How many Lok Sabha seats did Congress win in UP?
Asked 2019-06-13 17:43:08 by Dhruv Chauhan
Answered by NewsBytes
Congress won only one seat in UP, i.e., Raebareli. UPA Chairperson Sonia Gandhi fought elections from there.
Who won from Amethi?
Asked 2019-06-13 17:43:08 by Angel Chatterjee
Answered by NewsBytes
In 2019 polls, Amethi was won by BJP's Smriti Irani. The seat was considered as Congress' bastion but Rahul Gandhi failed to retain it.
What did Priyanka Gandhi say about the poll defeat?
Asked 2019-06-13 17:43:08 by Ridhi Gupta
Answered by NewsBytes
Priyanka Gandhi blasted Congress workers for not working for the party.