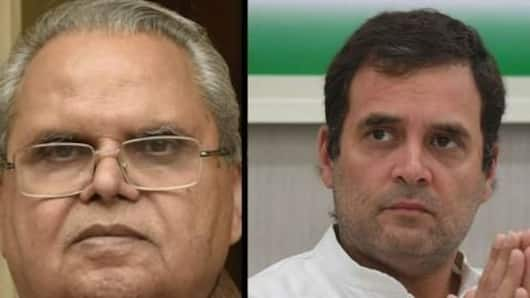 Will send plane, come here, observe: J&K Governor reprimands Rahul
On Monday, Jammu and Kashmir Governor, Satya Pal Malik, hit out at former Congress President Rahul Gandhi for his remarks on security in the northernmost state.
Rahul had spoken about "reports of violence" in J&K while asking the government to "come clean".
Lashing out at him, Malik said he would send an aircraft for Rahul so that he can see things on his own.
Backstory: Rahul said CWC halted "discussions " over Kashmir situation
On Saturday, Rahul told media that Congress Working Committee's meeting, called to choose his successor, was stopped over "disturbing reports" from the Valley.
"There are reports of violence, of people dying. We stopped deliberation on our meeting to conduct a presentation on the situation in Jammu and Kashmir," he said.
Minutes later, his mother Sonia Gandhi was appointed as the interim chief.
Separately, J&K Police had also claimed everything was normal
Attacking the BJP, Rahul had added, "It is imperative that Prime Minister Narendra Modi and the central government come clean on the matter."
However, J&K Police refuted reports of violence and maintained the situation was calm, and no untoward incident happened due to the scrapping of Article 370.
"The people are requested to not believe fabricated and motivated news," J&K Police's tweet read.
Love Politics news?
Stay updated with the latest happenings.
Yes, notify me
Rahul should speak responsibly, said Malik
And now, in a recent development, Malik has also lashed out at Rahul.
On Monday, the state's Governor said, "I have invited Rahul Gandhi to come here. I will send you a plane, to observe (the situation) and then speak up. You are a responsible person and you should not speak like this."
He added there was no communal angle to Centre's Kashmir move.
Articles 370 and 35A were scrapped for everyone: Malik
"Scrapping of Article 370 and Article 35A was for everyone. There is no communal angle (for scrapping it) in Leh, Kargil, Jammu, Rajouri-Poonch and not here either (Kashmir valley). There is no communal angle to it," he reportedly said.
On reports of bullet injuries, Malik hurled a challenge
Malik also slammed foreign media for their "misleading reports" and fanning "communal angle".
"All hospitals are open for you and if even a single person has been hit by a bullet, prove it," he said while adding that only four people were hit by pellets when there was some violence, and no one was grievously injured.
He said the foreign press has been "warned".
People are using the term "concentration camp" loosely, said Malik
Malik also fumed at allegations that Kashmir has been turned into a "concentration camp".
He said he went to jail 30 times, but still wouldn't call it a concentration camp.
"They (Congress) imprisoned people for one-and-half-years during Emergency, but nobody termed them concentration camps. Is preventative arrest (equal to) a concentration camp," he asked.
The valley has been under lockdown since last week.
What did Rahul Gandhi say on Kashmir situation?
Asked 2019-08-13 11:55:06 by Saanvi Tambe
Answered by NewsBytes
Rahul Gandhi asked Centre and Prime Minister Narendra Modi to "come clean" on reports of violence in J&K.
Who is Congress' president as of now?
Asked 2019-08-13 11:55:06 by Ajay Mehta
Answered by NewsBytes
Sonia Gandhi has been named Congress' interim president.
Who is Satya Pal Malik?
Asked 2019-08-13 11:55:06 by Shreya Rodrigues
Answered by NewsBytes
Satya Pal Malik is J&K's governor.
What did Satya Pal Malik tell Rahul Gandhi?
Asked 2019-08-13 11:55:06 by Aarav Vyas
Answered by NewsBytes
Satya Pal Malik said he would send an aircraft for Rahul Gandhi so he can observe the ground reality in Kashmir.