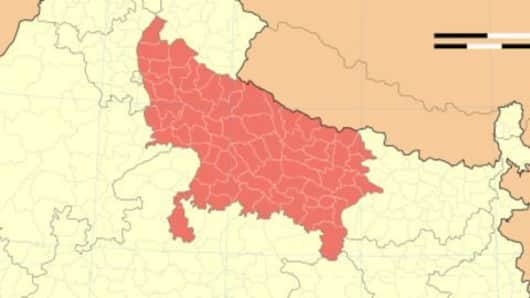 Whom should you vote for in UP?
The UP assembly elections, a three-way contest between the BJP, SP-Congress coalition and the BSP, will take place over seven phases from February 11 to March 8.
In this timeline, we look at the promises made by these parties in their manifestos so you are better informed about whom to vote for.
The BSP, however, said it won't be releasing a manifesto.
Congress, BJP both offer loan waiver to farmers
The incumbent SP said it will establish a farmer's fund.
The BJP in its manifesto promised to waive all farm loans and provide further interest-free loans. It said a special Rs.150 crore agricultural development fund will be created.
The Congress too has promised a loan waiver to farmers
SP promises to develop carpet, handloom industry
The SP has promised to focus on and develop the carpet and handloom industry. The SP and BJP both have promised 24-hours electricity. The BJP has promised to create a redressal system in every district to sort out trader disputes.
Love Politics news?
Stay updated with the latest happenings.
Yes, notify me
SP offers free medical services, BJP - housing loans
The SP has promised free medical services to those earning less than Rs. 1.5 lakh a year. Free wheat and rice will also be provided to the poor.
The BJP said it will provide up to Rs.6 lakh loan for building permanent houses and toilets. BPL citizens will get Rs.2 lakh life cover.
The Congress said it'll lower electricity rates and introduce police reforms.
Congress promises free bicycles to female students
The SP said meritorious students would be given smart phones. Samajwadi sports school for sports promotion would be set up.
The BJP said it will provide free WiFi to all colleges and universities. Also, all students scoring about 50% will get free education till graduation.
The Congress said it'll give free bicycles to girl students from classes 9 to 12.
BJP tries wooing youth with free laptops, start-up fund
The BJP promised that laptops will be given without any bias along with free 1 GB data per month. It also said a Rs. 1,000 crore start-up capital fund will be provided.
Congress promises women's police station in each district
The SP said it'll give Rs. 1,000 monthly pension to one crore women. Poor women would receive free pressure cookers. Women would receive a 50% subsidy while travelling in government buses. Pregnant women would receive nutritious diets at home.
The BJP promised no age bar for Rs 1000 widow pensions.
The Congress said each district would get women's police station.
BJP vows speedy Ram Mandir construction
Credits:
The SP said an air ambulance would be stationed at Lucknow airport; the metro would be expanded in Agra, Kanpur, Varanasi and Meerut.
The BJP promised the law will be followed to get the Ram Mandir built as soon as possible. It promised Muslim women that their opinion on triple talaq would be forwarded to the Supreme Court.
The Congress has promised police reforms.