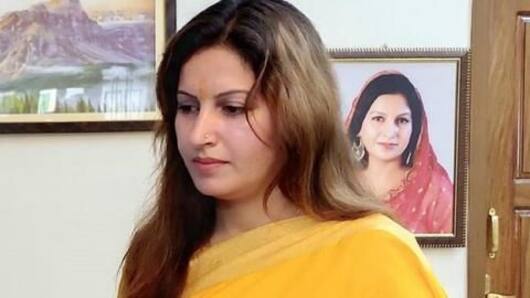 BJP's TikTok-star scolds for not chanting "Bharat Mata ki jai"
As Haryana gears up for assembly polls on October 21, a Bharatiya Janata Party (BJP) candidate has quite conveniently taken the limelight.
TV actor and TikTok star Sonali Phogat has been fielded from Adampur, a bastion of Congress' Kuldeep Bishnoi.
While she is busy with electioneering, a video of Phogat has become a talking point in the news.
So, what's in the clip? Let's decode.
Phogat asked crowd to chant "Bharat Mata ki Jai"
In the controversial video, which is doing rounds of the poll-bound state, the 40-year-old can be seen lashing out at a gathering for failing to chant "Bharat Mata Ki Jai".
The incident reportedly happened at Balsamand village and Phogat asked the crowd to say the words, which BJP leaders chant at the drop of hat.
On not getting the expected response, she got furious.
Unsurprisingly, Phogat called people "Pakistanis"
"Are you all from Pakistan? If you are Indian then say Bharat Mata ki Jai. I'm ashamed of you all... that there are Indians like you... Those who can't say Bharat Mata Ki Jai their votes are of no value," she said as per NDTV.
Love Politics news?
Stay updated with the latest happenings.
Yes, notify me
Phogat is sure Adampur will become second Amethi
Not long ago, Phogat compared her assembly constituency to Uttar Pradesh's Amethi, from where BJP leader Smriti Irani defeated Congress scion Rahul Gandhi on May 23.
Interestingly, Bishnoi's father, former Haryana Chief Minister Bhajan Lal, represented Adampur in the assembly a record nine times.
But the celebrity, whose videos of lip-syncing Bollywood songs are extremely popular, is confident voters will choose her this time.
Can't sit on family legacy, have to deliver too: Phogat
"You just can't sit on your family legacy, you have to deliver on the ground. People here are wise, they know where he lived, he was never seen in his constituency," Phogat, who has been an actor for 20 years, said.
Meanwhile, Bishnoi said he'll treat Phogat with "halwa-puri"
On the other hand, Bishnoi is also confident the voters will reward him like his father.
"She (Phogat) is welcome, we will treat her with halwa puri, but she should not expect votes here," the two-time MP said.
He also claimed his family has "nurtured" the constituency, but BJP neglected the area and no new schools or colleges were made.
Earlier, Phogat revealed why BJP gave her a ticket
By giving a ticket to Phogat, the saffron party has added an "entertainment" quotient to the polls. But she clarified she wasn't fielded because of her popularity.
"I have been a devoted BJP worker for the past 12 years. I have worked in Madhya Pradesh's tribal Morcha and brought them closer to the party. It was the most interesting experience," she said.
Phogat will use TikTok to instill "desh bhakti"
"Once I get the seat I will use TikTok to spread awareness about the work I do as an MLA, upload videos on girl's safety and also on patriotism to instill desh bhakti in the young generation," she told News 18.
When will assembly polls be held in Haryana?
Asked 2019-10-08 18:48:40 by Ridhi Mittal
Answered by NewsBytes
Assembly polls will be held in Haryana on October 21.
When will results be declared?
Asked 2019-10-08 18:48:40 by Muhammad Malhotra
Answered by NewsBytes
The results of the single-phase polls will be declared on October 24.
Who is Sonali Phogat?
Asked 2019-10-08 18:48:40 by Ananya Kapoor
Answered by NewsBytes
Sonali Phogat is a TikTok star who has been given a BJP ticket from Adampur.
Who has Congress fielded from Adampur?
Asked 2019-10-08 18:48:40 by Dhruv Jaiteley
Answered by NewsBytes
Kuldeep Bishnoi has been fielded from his family bastion.