Politics
Kejriwal: Will spruce up Delhi like London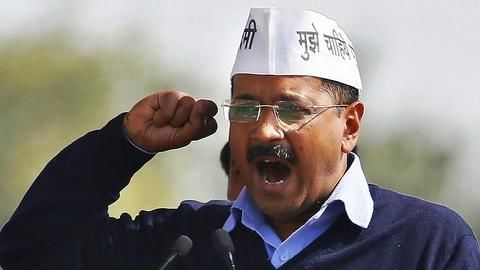 Delhi CM Arvind Kejriwal has promised to make Delhi look like swanky London within a year if voted to power in the upcoming municipal polls.
He said Delhi government delivered on its promises and had accomplished what other state-governments in MP or Chattisgarh failed to accomplish in 10-15 years.
He asked people to vote in large numbers to keep out corrupt BJP and Congress.
In context:
Can Kejriwal really make Delhi London-like?
MCD 2017 elections

Three municipal corporations of Delhi (MCD) North, South and East MCD, with a total of 272 seats would go to polls in April. Parties vying for power are Congress, AAP and BJP. For the last ten years, MCD has been ruled by BJP.
Why

Tipping point for BJP and AAP
AAP came to power in Delhi in a resounding victory in Feb'15.
However despite winning 67 out of 70 seats; key aspects of Delhi's administration like sanitation, cleanliness, roads remained outside the scope of their powers as it was under BJP-ruled MCD's purview.
Given hostility between AAP and BJP, MCD polls could redefine power dynamics between AAP and BJP which can impact Delhi's fate.
Love Politics news?


Stay updated with the latest happenings.
What

Key issues for the MCD Polls
Corruption is expected to be one of the key issues in the civic elections.
Both Congress and AAP have repeatedly alleged that rampant corruption in BJP-ruled civic bodies brought Delhi to a standstill in terms of delivery of civic services.
Cleanliness in Delhi is another very contentious issue: the city has suffered massively due to dust and filth on roads and dengue/chikungunya epidemic.
Congress Delhi Chief hits out

Blaming MCD for Delhi's filth, Ajay Maken, the Congress's Delhi unit chief spoke to the media and said: "On sanitation front, a record number of cases of vector-borne diseases were reported in the last two years."
A new perspective

'Swaraj India' debuts for MCD polls
'Swaraj India' led by psephologist and academic Yogendra-Yadav will make its electoral debut with MCD polls.
In its vision document, principal plank of campaign is "cleanliness". The party has committed to improving Delhiites' quality of life by building a "sustainable solid waste management" system.
Swaraj India envisions a "garbage-free" Delhi and has promised to create special task forces for monsoon preparations, sanitation and more.
06 Mar 2017

Kejriwal: Will spruce up Delhi like London
Love Politics news?


Stay updated with the latest happenings.
AAP releases candidates' names, Cong and BJP lagging

For 272 MCD seats, AAP released a first list of 119 candidates last week. Second list comprises of 89 candidates of which 51 are women and are long-term AAP loyalists. Congress and BJP are yet to announce names.