Thackeray government clears Maharashtra floor test; BJP MLAs stage walkout
Politics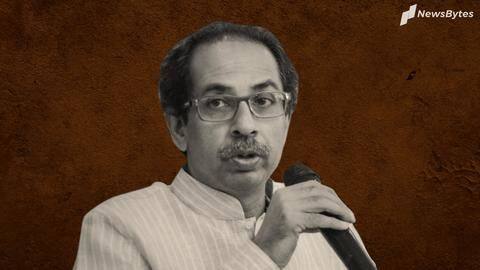 The Uddhav Thackeray-led Maha Vikas Aghadi government on Saturday passed the floor test in the Maharashtra Assembly.
Earlier, Opposition MLAs had staged a walkout, claiming that the floor test was illegal.
Bharatiya Janata Party (BJP) leader Devendra Fadnavis also said that they would approach the Maharashtra Governor to suspend the proceedings of the House.
Here are more details.
Details
Maha Vikas Aghadi government received 169 votes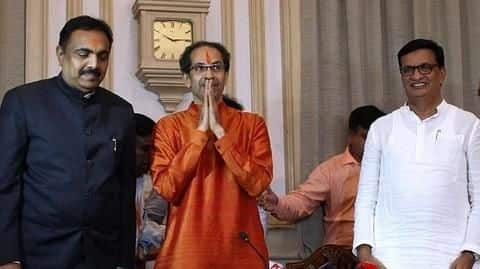 The Thackeray-led Maha Vikas Aghadi (MVA) government received 169 votes in its favor. The majority mark in the 288-member Maharashtra Assembly is 145.
Reportedly, two MLAs of the All India Majlis-e-Ittehadul Muslimeen (AIMIM), one CPI(M) MLA and one MNS MLA stood neutral during the trust vote.
Meanwhile, all 105 MLAs of the saffron party were absent during the voting.
BJP's protest
Assembly session unconstitutional and illegal: Fadnavis
Notably, BJP legislators were absent during voting after having staged a walkout ahead of the floor test.
BJP leader and former Maharashtra Chief Minister claimed, "This session is unconstitutional and illegal. The appointment of Pro-tem Speaker was also unconstitutional."
Ahead of the floor test, Fadnavis said he would submit a letter to the Governor to suspend the proceedings of the House.
House should follow the Constitution: Fadnavis
Issues
Assembly didn't start with ceremonial 'Vande Mataram', says Fadnavis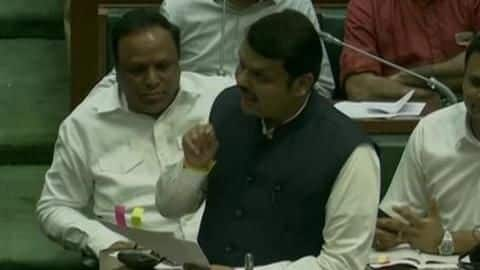 In the Assembly, Fadnavis had said that the session did not start with the National song 'Vande Mataram', violating rules.
He also claimed they were informed about the session late last night to prevent party MLAs from reaching the Assembly.
However, Pro-tem Speaker Dilip Walse Patel maintained that the Governor himself had given permission for the session last night, hence, it was legal.
Speaker
Fadnavis protested against appointment of Pro-tem Speaker
Fadnavis also spoke about the appointment of NCP's Dilip Walse Patil as the Assembly's Pro-tem Speaker. Earlier BJP's Kalidas Kolambkar was appointed Pro-tem speaker when the MLAs were administered oath.
Fadnavis said a Pro-tem Speaker has "never been changed in India's history," adding, "Never in the history of Maharashtra Assembly, trust vote was conducted without electing the Speaker. What was the fear this time?"
Other complaints
Fadnavis called swearing-in of Thackeray, other ministers, 'illegal'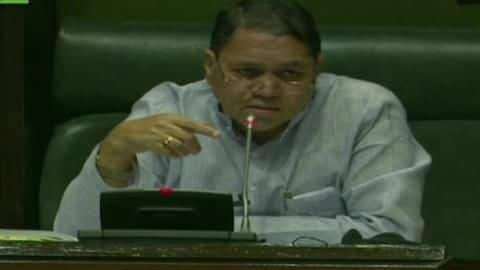 When Fadnavis claimed the swearing-in of CM Thackeray and other ministers "illegal," Pro-tem Speaker Patil fired back, "You're raising an issue which is of out of the House."
To this, Fadnavis said, "If I am not allowed to speak on the Constitution then I have no right to sit in this House."
Eventually, Fadnavis led a walkout of BJP MLAs.
Information
Maha Vikas Aghadi didn't take oath per rules: BJP leader
Further, BJP leader Chandrakant Patil accused the Maha Vikas Aghadi of "not taking oath as per rules." Patil said they will file a petition with the Governor and might move the Supreme Court. Patil also announced Kisan Kathore as BJP's candidate for Assembly Speaker.
Other developments
Will take oath in Shivaji's name again, responds Thackeray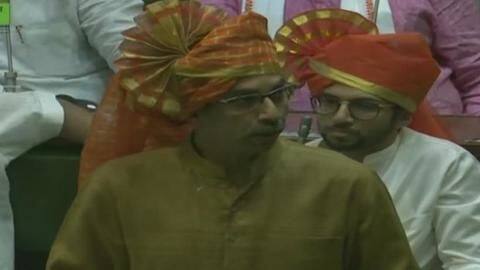 Meanwhile, Thackeray responded, "Yes, I took oath in name of Chhatrapati Shivaji Maharaj and my parents. If that's an offense, then I will do it again."
Maharashtra Assembly has now been adjourned for the day.
Congress leader Nana Patole also filed his nomination for assembly Speaker.
Earlier, the MVA—an alliance of Shiv Sena, NCP, and Congress—had decided the Speaker's post will go to Congress.