Politics
RTI reveals bureaucrat transferred for opposing Ramdev land grant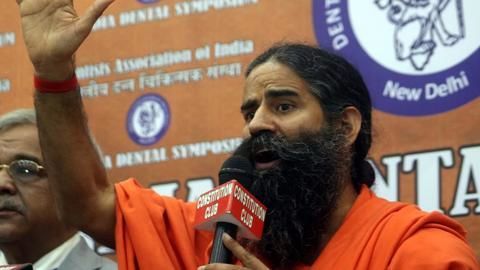 Documents via RTI have revealed that last year a senior bureaucrat in the Maharashtra government was allegedly shunted out for opposing grant of land to Ramdev.
The bureaucrat, had raised concerns when the Maharashtra government decided to grant over 200 acres of land for a food park in Nagpur at a massive 75% discount.
Three weeks after he voiced his opposition, he was transferred.
In context:
Bureaucrat bears brunt for opposing Ramdev's land grant
Background

Ramdev Food Park
In mid-2016, 230 acres of land in Nagpur was proposed to be given to Baba Ramdev's Patanjali Ayurveda Ltd.
Land rates were roughly Rs. 1 crore per acre but committee in-charge of deciding land prices recommended Rs. 25 lakh per acre for the food park.
Subsequently, in August 2016, Patanjali Ayurveda was finally granted 230 acres for Rs. 58.63 crores on lease for 66-years.
Details

Dissent over discounted land rates
A four member committee which recommended revising rates downwards explained the rationale: they believed high prices would drive away industrial projects from Nagpur.
Separately, they added, even in the past, land had been granted on concessional rates for other industrial projects including Boeing and Satyam.
However, one senior bureaucrat, Bijay Kumar, then principal secretary of financial reforms questioned the rationale of committee's financial calculations.
Love Politics news?


Stay updated with the latest happenings.
Kumar raises red flag

Senior bureaucrat, Bijay Kumar In writing stated, that lowered prices were not supported by detailed calculations and the same must be provided before deciding upon proposal's merit. CM Fadnavis however agreed to committee's recommendations.
09 Mar 2017

RTI reveals bureaucrat transferred for opposing Ramdev land grant
Strong defence

CM Fadnavis rebuts allegations
CM Fadnavis rejected allegations of Kumar's transfer being punitive: he reiterated that Kumar's transfer, even though in mid-way of his tenure was routine and he was given a posting of his choice.
He also clarified that tender process to grant land was entirely transparent and the allotment was done via open-bids system.
Kumar, who is currently principal secretary (agriculture), was not available to comment.