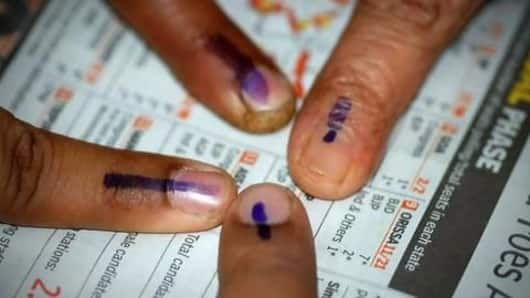 Elections over, exit polls an appetizer before final results
Exit polls for the recently conducted assembly elections in the states of Uttar Pradesh, Punjab, Uttarakhand, Goa and Manipur have started coming in.
These polls, while not fully accurate, do provide an indicator on which party or parties would win the election, before official counting of votes begins.
In this timeline, we provide the latest exit polls results and explain their significance.
What are exit polls?
In exit polls, voters who have cast a ballot are asked outside polling station about who they voted for.
The main challenge is to pick select polling booths in various constituencies which could be representative of all voters within a state.
Following data collection, projections are made by accounting for variables such as demographics, past voting preferences and overall turnout.
"Likely" winners a key term for exit polls
The term "likely" is synonymous with exit polls. This is because exit polls give estimated results by assigning a probability of outcomes across a state or country based on collected data. The probabilities of all constituencies are added to forecast seats won by various parties.
Love Politics news?
Stay updated with the latest happenings.
Yes, notify me
Polls put BJP in lead, will it get majority?
India Today-Axis predicts 251-279 seat share for the BJP, giving it a sweeping victory in UP's 403-seat assembly.
News24-Today's Chanakya projects a BJP win with a 267-303 seat share.
ABP-CSDS predicts the BJP would win 164-176 seats and SP-Congress alliance- 156-169 seats, placing both sides in a neck-and-neck race.
NewsX-MRC puts BJP in the lead with 185 seats but short of an absolute majority.
Polls put AAP and Congress on top, BJP-SAD to lose
Credits:
India TV-CVoter predicts an AAP win with 63 seats out of the assembly's 117, Congress- 45 seats.
The India Today-Axis poll gives Congress 62-71 seats, a lead over AAP's 42-51.
News24-Today's Chanakya has given AAP and Congress around 54 seats each.
APB-CSDS predicts 46-56 seats for Congress, placing it short of an absolute majority. AAP may win 36-46 seats.
Exit polls put BJP on top in Uttarakhand and Goa
News24-Today's Chanakya projects that the BJP will win Uttrakhand with 53 out of 70 seats.
India TV-CVoter predicts both BJP and Congress will win 32 seats each.
Both NewsX-MRC and India TV-CVoter predict that the BJP will win in Goa with 15 and 15-21 seats, respectively, out of a total of 40.
India Today-Axis projects a BJP win in Goa with 18-22 seat share.
Mixed predictions for Manipur
India TV-CVoter predicts a BJP lead with 28 seats, followed by Congress (20). The India Today-Axis polls project the Congress to get 30-36 seat share whereas BJP could win 16-32 seats. The Manipur state assembly has 60 seats.
Exit polls correctly predicted TN, Assam, Kerala results last year
Elections were held in five states in April-May 2016.
India Today predicted a Trinamool Congress victory with 243 seats, Chanakya- 210 seats and C-Voter- 167 seats. The TMC won 211 seats.
For Assam, Chanakya predicted 90 seats win for the BJP, ABP- 81 seats and India Today- 79-93 seats. The BJP won with 81 seats.
Exit polls for Kerala and Puducherry were accurately predicted.
Exit polls predictions for Tamil Nadu were wrong
Exit polls predictions for Tamil Nadu went horribly wrong. Most polls predicted that the AIADMK would lose. News Nation TV gave AIADMK 95-99 seats and 114-118 seats to the DMK-Congress alliance.
The Axis-My India exit poll predicted a 124-140 seats win to the DMK-Congress alliance. It gave the AIADMK 90-110 seats. The AIADMK won 136 seats in the 243 seat Tamil Nadu assembly.
Exit polls went wrong during Bihar elections results
Credits:
After the 2015 October-November Bihar Assembly elections, most exit polls predicted a close fight between the JD(U)-RJD-Congress grand alliance and BJP-led NDA.
The ABP-Nielson poll predicted 130 seats for the grand alliance and 108 for NDA. The Times Now and C-Voter poll gave the grand alliance 122 seats out of 243 and NDA-111 seats.
The grand alliance won a landslide victory with 178 seats.