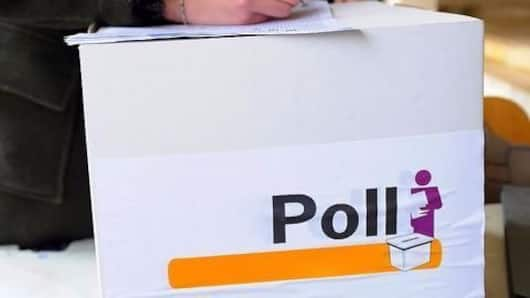 Counting of votes begins in five states
Officials will begin counting votes today in Uttar Pradesh, Manipur, Goa, Punjab and Uttarakhand after a month of polls.
Most exit-polls predict that the Modi-led BJP will come to power in Goa, Uttarakhand and most importantly UP, which could vindicate PM Narendra Modi following his demonetization gamble.
The stakes for AAP and Congress in Punjab, and the SP-Congress alliance in UP remain equally high.
UP polls a litmus test for Modi, SP-Congress and Mayawati
The seven-phase election for UP's 403 assembly seats is a three-way contest between the BJP, the BSP and the SP-Congress alliance.
The Akhilesh Yadav-led SP is looking to retain power with the Congress.
The Mayawati-led BSP is hoping for a comeback while the BJP under PM Modi is attempting to solidify its dominance over India ahead of the crucial 2019 Lok Sabha elections.
In Punjab, Congress seeks revival, AAP-expansion
The Punjab assembly elections is a three-way contest between the Congress, the ruling Shiromani Akali Dal-BJP alliance and Aam Aadmi Party.
Congress is desperately looking for a win after its recent electoral defeats.
For the AAP, a Punjab victory would facilitate its entry into the national political stage.
The Shiromani Akali Dal-BJP alliance meanwhile is hoping to retain power amid widely projected anti-incumbency sentiment.
Love Politics news?
Stay updated with the latest happenings.
Yes, notify Me
BJP hopes to retain power in Goa, Congress/AAP-upset victory
The incumbent BJP is going toe-to-toe with the opposition Congress and debutant AAP in the election for Goa's 40 seat assembly.
The Manohar Parrikar-led BJP is looking to retain power in the state.
The Digambar Kamat-led Congress is looking for a comeback after being voted out of power in 2012.
The AAP meanwhile is looking to replicate its strong Delhi performance in Goa.
BJP hopes to end Congress' 15-year rule in Manipur
The election for Manipur's 60-seats witnessed a high-pitched campaign by the BJP and the incumbent Congress.
The BJP campaigned hard to overthrow the Okram Ibobi Singh-led Congress government which has been in power for the past 15 years.
Anti-AFSPA crusader Irom Sharmila who entered politics after ending her 16-year hunger strike, also contested the election.
BJP hoping to capitalize on Congress rebels for upset victory
The election for Uttarakhand's 70-member assembly is a straight contest between the BJP and Congress.
The ruling Congress party wants to win and provide impetus to its 2019 Lok Sabha campaign.
Meanwhile, BJP aims to dethrone CM Harish Rawat-led Congress government and continue its winning streak.
The election witnessed a number of Congress turncoats defecting towards the BJP.