Politics
Kejriwal alleges EVM tampering in Punjab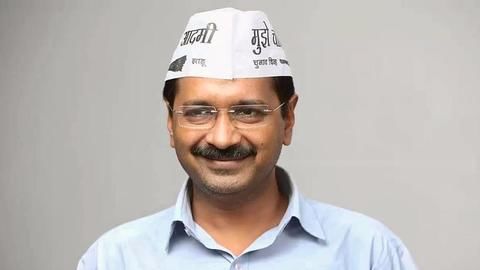 AAP leader Arvind Kejriwal has alleged that 20-25% of votes that were given to AAP was transferred to other parties from tampered EVMs. He demanded a probe into the matter.
He blamed the Congress and the SAD-BJP saying that the two did not want AAP in Punjab under any circumstances.
Earlier BSP supremo Mayawati had also alleged that EVMs were tampered.
In context:
Kejriwal questions EVM's security
14 Mar 2017

Kejriwal seeks ballot papers for MCD election
Arvind Kejriwal wrote to the Election Commission, saying that they should use ballot papers and not EVMs for the upcoming MCD elections in Delhi.
Congress leader Ajay Maken had issued a warning recently, saying "I want Arvind Kejriwal to hold MCD elections through Ballot papers."
BSP supremo Mayawati had also raised the issue of tampered EVMs recently.
15 Mar 2017

Kejriwal alleges EVM tampering in Punjab
Love Politics news?


Stay updated with the latest happenings.
24 Mar 2017

Supreme Court questions EC over EVMs
The Supreme Court issued a notice to the Election Commission asking them to clarify their stance on the accuracy of EVMs. A complaint was filed after several politicians alleged that the machines could be easily tampered with.
However the court refused the petitioner's request to ask for CBI intervention.
BSP supremo Mayawati and AAP chief Arvind Kejriwal had alleged EVM tampering after their losses.
03 Apr 2017

EVM tampering: EC denies AAP's allegations, says 'introspect on performance'
Denying AAP's demand for cross-verification of Punjab poll results, the Election Commission said the party should introspect on its performance instead of making "unfair" accusations.
It rejected most arguments AAP had made, directing it to be a "responsible political party".
It added such verification could only be done by filing an election petition in the concerned high court.
08 Apr 2017

EVM tampering: Inquiry team finds no anomalies
An inquiry team led by AP chief electoral officer Bhanwar Lal has found no evidence of tampering of EVMs used in a demonstration at Bhind.
It found that corresponding symbols were displayed when different buttons were pressed.
The inquiry was held after a video of the demonstration showed anomalies between buttons pressed and data recorded. It reportedly happened due to non-deletion of previous data.
10 Apr 2017

EVM tampering: 'Dhritarashtra' EC wants 'Duryodhana' BJP to win
Maintaining his stand on alleged tampering of EVMs, Delhi CM Arvind Kejriwal equated the EC with 'Dhritarashtra', who wanted 'Duryodhana' BJP to win.
"The EC has become Dhritarashtra, who wants his son (Duryodhana) to win by hook or crook," Kejriwal told the media.
He also asked why EVMs for Delhi municipal elections were being brought from Rajasthan, alleging the EC wasn't ready to investigate.