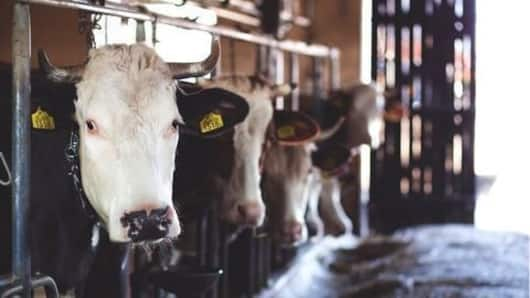 Illegal slaughterhouses, meat shops face early UP govt censure
Civic bodies in Ghaziabad followed Allahabad in striking against illegal slaughterhouses and meat shops.
Two slaughterhouses were shut down in Allahabad on 20th March and a day later, one slaughterhouse and 12 meat shops shut in Ghaziabad.
These events took place in the first two days of the Yogi Adityanath government taking charge in UP. Shutting illegal slaughterhouses had been a key campaign push.
BJP's cow protection agenda
Cow protection has been a cause championed by the extreme right wing within the Hindutva umbrella.
Various Gau Rakshak cadres have spawned throughout the hinterland, at best levying taxes on cattle traders and worst, resorting to brutal dispensation of 'justice'.
Yogi Adityanath's mentor Mahant Avaidyanath was a major campaigner for cow protection. The Hindu Yuva Vahini's activity sees cow protection as a key area.
A stately matter
Cow slaughter or the sale of cows is banned in 24 Indian states. The matter comes under Entry 15 of the State list and as such there can be major differences in legislation from one state to the other.
Love Politics news?
Stay updated with the latest happenings.
Yes, notify me
UP's Meat Processing Sector
According to official figures, 38 out of 72 government approved slaughterhouses are located in UP, with many in Western UP. A number of illegal ones exist in Bijnor, Amroha and Chandpur.
A ban could affect the two lakh people the sector employs including a major chunk of Qureishis, a Muslim sub-community associated with the trade.
UP is India's largest producer of beef.
Hold on to your, cows?
By moving ahead with polarizing moves such as this, the Government does run risk of sparking communal clashes and repetition of events like Dadri.
While the government can be commended for quick action on promises, a total ban on slaughterhouses would take a toll on the exchequer.
Animal rights groups have supported strong measures, claiming previous regimes allowed traders to carry on despite discrepancies.
UP meat ban: Sellers launch indefinite strike, fish vendors join
Meat sellers of Uttar Pradesh launched an indefinite strike on March 27 against the government crackdown on illegal slaughterhouses.
Many fish sellers have also reportedly joined in.
Due to the strike, renowned non-vegetarian restaurants including Tunday and Rahim's have had to shift to mutton and chicken.
Meanwhile, BJP national spokesman Sambit Patra said 10-member committees are visiting every slaughterhouse to examine their legality.
UP meat sellers meet CM Adityanath, may call off strike
The ongoing strike of meat-sellers and eminent eateries in Uttar Pradesh is likely to end soon as CM Yogi Adityanath assured meat-sellers and exporters that interests of genuine operators would be protected.
A crackdown on mechanized and illegal slaughterhouses was one of the promises BJP made in the state.
Majority of the meat-sellers described their meeting with the CM as "positive."
UP meat sellers call off strike
Meat sellers in Uttar Pradesh have called off their strike against the state government's crackdown on illegal slaughterhouses.
Mubeen Qureshi of the Lucknow Bakra Gosht Vyapar Mandal said "The state government listened to our views and grievances with an open mind. We are opening our shops tomorrow."
He said the government also promised to renew licenses of mutton sellers under a legal framework.
Slaughterhouse ban is legal: Adityanath
UP Chief Minister Yogi Adityanath stated that the ban on illegal slaughterhouses in the state was carried out under a legal framework and the move was well within the law.
He clarified that there was no prejudice involved and that "no legal operator will be harassed."
He stated that his decision was based on a 2015 NGT ruling and a 2017 SC ruling.