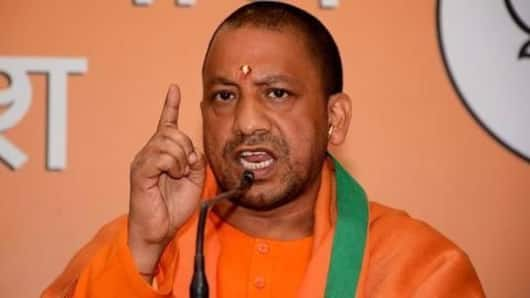 Yogi makes more than 50 decisions in 150 hours
Within 150 hours of being sworn in, the Yogi government in UP has set standards and even started action on about 50 decisions, without having held a single cabinet meeting.
Decisions made have included a string of bans, ensuring transparency and a crackdown on issues concerning women's safety
Yogi seems to be all out to set the state's record straight. Let us know more!
Anti-romeo squads to culling the black sheep
Working closely with top police officials, Yogi's tactics to ensure discipline amongst the forces have included surprise visits to police stations to gauge morale and functioning of the force, as well as suspending 100 personnel, in a bid to get rid of the "black sheep".
Speculations on anti romeo squads becoming moral police were shut down following Yogi's directive to crackdown on moral policing.
Ending the "babu culture"
Yogi started his bid to end the state's "babu culture" with issuing a ban on gutka and chewing tobacco in all government offices. This was followed up by the ban on jeans and t-shirts and use of plastic in government offices.
The CM has also directed for CCTV cameras, as well as biometric machines to ensure punctuality and attendance regularization in government offices.
Love Politics news?
Stay updated with the latest happenings.
Yes, notify me
The Kailash Mansarovar Yatra
The Kailash Mansarovar Yatra is a pilgrimage undertaken by hundreds of devotees each year to the "abode of Shiva", located in Tibet. Subsidies are intended to provide financial help to pilgrims, who bear a financial burden of about Rs. 2-2.5 lakh to undertake the same.
Holy cow!
While ordering the police to crackdown on cow vigilantism, Yogi ordered a blanket ban on cow smuggling and has started closing down illegal abattoirs. This has led to loose speculations that Yogi wants UP to turn vegetarian.
The decision hailed by some for its environmental and health merits, has raised livelihood concerns and allegedly resulted in a dearth of meat in the state.
UP passes Rs. 47cr drinking water package for drought-hit Bundelkhand
UP CM Yogi Adityanath passed a Rs. 47cr package for drinking water in drought-hit Bundelkhand, and promised more funds if needed.
The government will also intensify National Rural Livelihood Mission in the region to provide alternative sources of income, help construct water tanks and build wells.
Adityanath, who said the region had been ignored by previous governments, is likely to visit Bundelkhand this month.
Yogi Adityanath pushes for Jewar International Airport in Greater Noida
UP CM Yogi Adityanath has reportedly directed officials to discuss issues related to Jewar International Airport in Greater Noida with the Centre.
He has also asked to consider Agra as an option.
Adityanath pushed for faster work on the Agra-Lucknow expressway. The government will remove "Samajwadi" from "Poorvanchal Expressway" project.
The CM has asked for a report on these issues in three weeks.
Yogi Adityanath bats for rainwater harvesting for all new houses
UP CM Yogi Adityanath has directed officials to ensure that plans of a house are approved only if it has provisions for a rainwater harvesting facility.
He also laid emphasis on benefits of schemes for drinking water reaching the needy.
He suggested that handpumps be bored to meet the increasing need of drinking water.