Politics
Political drama in Bihar: MP Pappu Yadav arrested for nuisance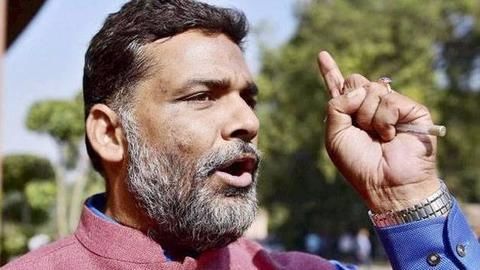 The Patna police arrested the Jan Adhikar Party-Loktantrik (JAP-L) patron and Madhepura MP Rajesh Ranjan alias Pappu Yadav.
The arrest was accompanied by 4 hours of high-voltage drama from 4 PM - 9 PM at the parliamentarian's residence.
Police announced that Pappu was detained for causing annoyance near the state capital's Kargil Chowk on 24 January.
In context:
Pappu Yadav arrest: Dharna follows drama in Bihar
Introduction

Who is Pappu Yadav?
Rajesh Ranjan (Pappu Yadav) won the Lok Sabha elections in 1991, 1996, 1999, and in 2004 from various constituencies in Bihar.
He has fought elections as an Independent, SP, Lok Janata Party, RJD candidate.
In 2015, Pappu Yadav founded his own party Jan Adhikar Party (L).
Known to raise issues of the common man, Yadav became one of the 'best performing' MPs in 2015.
27 Mar 2017

Arrested on the day of dharna
Earlier in the day, Yadav and his supporters were stopped from proceeding towards state assembly where they had intended to sit on a dharna.
His supporters suffered injuries after police caned them after which the JAP-L workers became violent and threw stones at the police.
Water cannons were used to disperse the crowd and then cops took to lathi charge, wounding nearly 50 workers.
Love Politics news?


Stay updated with the latest happenings.
27 Mar 2017

4 hours of drama: Police vs Yadav supporters
A platoon of at least 500 policemen was deployed by DSP Shibli Nomani at Pappu Yadav's residence to arrest him.
Hundreds of his supporters too surrounded his residence and started raising slogans in Yadav's favour.
Yadav refused to yield demanding an arrest warrant and on grounds of lack of evidence.
It was after 4 hours that the warrant came and the arrest was made.
28 Mar 2017

Political drama in Bihar: MP Pappu Yadav arrested for nuisance