Politics
Kejriwal asked to reimburse Rs. 97cr to Delhi Government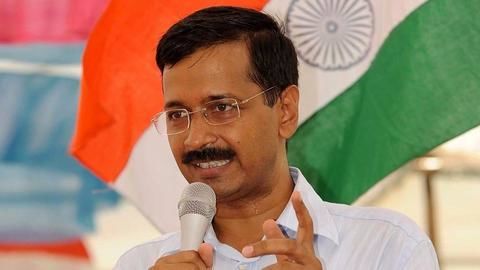 The Aam Aadmi Party (AAP) Chief, Arvind Kejriwal, has been directed to repay the Rs. 97cr spent by his party for promotional advertisements.
The Directorate of Information and Publicity (DIP) noticed the issue after the Lieutenant Governor of Delhi, Anil Baijal, cited that the expenditure violates Supreme Court guidelines.
Kejriwal has to pay Rs. 97cr within 30 days, but Rs. 42 crore immediately.
In context:
Kejriwal government and its outrageous advertising spends
RTI reveals: AAP spent Rs.16 lakhs a day on advertisements

An RTI query highlighted that the Aam Aadmi Party government was spending "Rs. 16 lakh a day on advertising in the print media". It also revealed that in 91 days, the Delhi government had spent "Rs.14.45 crore on advertising - excluding broadcast".
25 Aug 2016

CAG report says AAP spending 3 times more on advertisements
In its audit report, the Comptroller and Auditor General (CAG) revealed that the AAP government was spending an audacious amount on publicity.
Delhi's advertisement budget had swelled from the "Rs. 25.25 crore in 2013-14 to Rs. 81.23 crore in 2015-16".
Reports revealed that the AAP government had earmarked Rs. 500 crore for advertisements which was later slashed to Rs 100 crore.
Love Politics news?


Stay updated with the latest happenings.
11 Mar 2017

AAP spending 85% of advertising budget on publicity outside Delhi
The CAG slammed AAP for spending "Rs. 28.71 crore of the total expenditure of Rs. 33.40 crore" on publishing advertisements outside Delhi.
This was a direct violation of SC guidelines.
Further, AAP was pulled up for advertising non-verifiable content.
Investigation of the records exposed that another "Rs. 20.23 crore was paid in 2016-17 for advertisements" bringing the entire expense to Rs. 101.46 crore.
AAP defends

AAP justifies its media spends
Facing flak over an earmarked Rs. 500 crore media budget, Deputy CM Sisodia said "the government is obliged to advertise its policies" because the media, which was "responsible for showcasing the work so people benefit is busy on altercations" with his party.
AAP's media advisor Nagendar Sharma said that the publicity expense had appeared exaggerated as it clubbed "the allocation for every government department."
30 Mar 2017

SC appointed committee finds AAP violating advertising regulations
A three-member committee appointed by the Centre charged the AAP government for "misusing" treasury money on publicity.
The committee said AAP had paid Rs. 42 crore to ad agencies and the remaining Rs. 55 crore was unpaid.
The committee, commanded by the three-member committee, by BB Tandon- former Chief Election Commissioner was designated to address concerns related to Content Regulation in Government Advertising.
12 Apr 2017

Kejriwal asked to reimburse Rs. 97cr to Delhi Government
Love Politics news?


Stay updated with the latest happenings.
25 Apr 2017

Kejriwal to challenge L-G's order on reimbursing Rs. 97cr
Delhi CM Arvind Kejriwal said he will challenge in court Lieutenant Governor Anil Baijal's "wrong" order of recovering Rs. 97cr that his government allegedly spent on ads.
Alleging "targeting", he asked why AAP was being penalized for issuing ads outside Delhi, when other state governments frequently advertise in Delhi newspapers.
He added providing CM's photos in state governments' ads isn't a violation of rules.