Politics
Ministers asked to submit 5 major achievements by Modi govt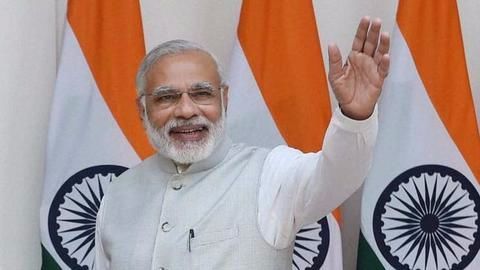 Just ahead of its third anniversary in power, the Modi government has asked all ministers to submit a list of five major achievements that they think have benefited people.
It has also asked ministers to provide comparative data to track the progress made since the BJP came into power.
The findings will be compiled in a booklet which will be published before 26th May.
In context:
Taking stock of three years of BJP rule
30 Mar 2017

Third anniversary: Modi meets with lawmakers
PM Modi, in a meeting held with BJP MPs apprised them of the work undertaken by the government in the last three years and directed MPs to spread the word on the government's good performance.
Union ministers Piyush Goyal and Venkaiah Naidu have been tasked with formulating the government's anniversary report.
The report is expected to bolster positive public perception on issues including demonetization.
Union minister for Information and Broadcasting, Venkaiah Naidu directed ministers "to be ready with facts, figures, data to propagate the governments achievements in a big way".
In a letter highlighting the government's efforts to positively impact people's lives, Naidu added, "Three years in office is fairly a reasonable period for the people to form an opinion on our government and judge our governance impact".
Love Politics news?


Stay updated with the latest happenings.
Ministers are assigned with preparation of notes on specific sectors, as per the list drawn up by the government.
M.J. Akbar, Minister of State for External Affairs, has been tasked with highlighting achievements of Modi's foreign visits.
Rajya Sabha members Swapan Das Gupta and Chandan Mitra will look to steer the intellectual discourse, countering negative narratives on issues including freedom of expression and unemployment.
Focus

Central themes in the anniversary message
Corruption free governance is set to occupy a central place in the government's anniversary message, along with achievements through Swacch Bharat and demonetization.
BJP is also set to draw up ministry-wise comparisons with UPA government's performance. Ministers were further directed to hold special press conferences to disseminate information on work done.
A detailed media strategy is planned to spread information on its welfare schemes.
09 Apr 2017

Ministers asked to submit 5 major achievements by Modi govt
12 Apr 2017

BJP's three years: 'Take credit for good work', MPs told
Ahead of the BJP government's three-year anniversary on May 26, PM Narendra Modi has asked MPs to "take credit" for the good work done by the government, instead of directing all credit to him.
Exhorting MPs not to succumb to fatigue, Modi urged them to establish good relations with people.
A regular attendee at such meetings termed the approach a "new pitch".
Love Politics news?


Stay updated with the latest happenings.
Analysis

Could BJP media strategy bring it home in 2019?
BJP's concerted focus on a dissemination strategy can be seen in view of preparations for 2019 general elections. The Party clearly sees it as an opportune moment to do this in wake of its glorious performance in the recent state assembly polls.
However, efforts to stifle negative narratives on issues including demonetization, is eerily similar to its previous "India shining" campaign and could backfire.