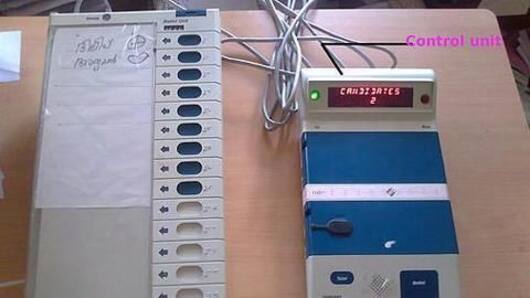 Faulty EVMs: Madhya Pradesh Government removes top officials in Bhind
A video that went viral on social media purportedly showing a faulty Electronic Voting Machine (EVM) that registers votes only for the BJP, resulted in the Madhya Pradesh government taking swift action against top officials of Bhind, from where the video surfaced and an Assembly by-election is scheduled.
The District Collector and SP were removed, with action against a further 19 officials underway.
Kejriwal chomps at the bit
"If some can be faulty, many others may also be tampered with. These reports are shocking and raise doubts about the essence of democracy in this country. This means... no matter who people vote for, the lotus will bloom out of the muck of EVMs."
Opposition parties urge EC to upgrade EVMs
The controversy over faulty EVMs has been raging ever since poll results in five states last month. Set in motion by BSP supremo Mayawati, it has been AAP chief Arvind Kejriwal who has grabbed most eyeballs recently.
Even before the MP Government took action, Kejriwal met Naseem Zaidi, Chief Election Commissioner, to suggest that only EVMs with paper printout feature should be used henceforth.
Love Politics news?
Stay updated with the latest happenings.
Yes, notify Me
Kejriwal points fingers at BJP
"Who is changing the software and how is not being checked. How is it that all faulty machines only register votes in favour of the BJP?"
How did it happen?
The video shows the new EVM with Voter Verifiable Print Audit Trail (VVPAT) registering votes only for BJP even as officials, who were conducting a dummy test of the machine, pressed buttons assigned to candidates of other parties.
Hours after it surfaced, Kejriwal and the AAP party started promoting the video on social networks, which were already abuzz with word on the incident.
Fixing glitches need of hour, not blast from the past
There has been a counter narrative in local media-agencies that the VVPAT had worked fine and the video was intentionally clipped.
An independent probe is welcome to settle doubts among voters.
However, going back to paper ballots as also suggested by Kejriwal would be a step backward as widespread misuse of that system was a reality that prompted EVM introduction in the first place.