Politics
EC lambasts Sasikala faction for using 'two leaves'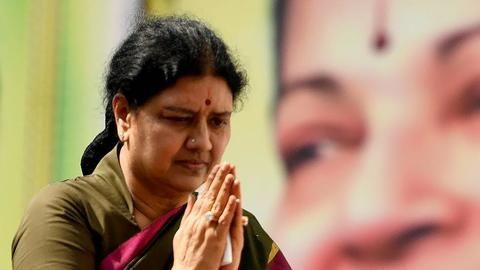 The Sasikala faction of the AIADMK was lambasted by the Election Commission of India for continuing to use the "two leaves" symbol, despite it being frozen for the RK Nagar elections.
The EC said, under the 1951 Representation of the Peoples Act, the symbol will have to be taken down.
The faction has also been asked to furnish a justification for violating the order.
In context:
The AIADMK symbol row continues
March'17

EC freezes AIADMK symbol
The Panneerselvam and Sasikalaa camps are set to face for the RK Nagar polls.
Sasikalaa registered her party under the name AIADMK Amma, while OPS registered under the name AIADMK Puratchi Thalaivi Amma.
The EC froze the two leaves symbol, prohibiting both factions from using it.
AIADM Amma is represented by a hat symbol, while AIADMK Puratchi Thalaivi Amma is represented by an electric-pole.
RK Nagar

RK Nagar by-polls
RK Nagar has long been an AIADMK stronghold. The region remained in AIADMK hands even when the DMK swept the rest of the state.
Jayalalithaa had won the by-election in RK Nagar with a margin of 1.5 lakh votes in 2015. After her death, the seat had to be re-contested.
The by-polls are a crucial litmus-test for both factions of the AIADMK.
Love Politics news?


Stay updated with the latest happenings.
04 Apr 2017

EC lambasts Sasikala faction for using 'two leaves'
Sasikala faction accuses OPS faction of manipulating symbol

The Sasikala faction's Deputy general secretary, TTV Dinakaran accused the OPS faction of manipulating their electric pole symbol to look like the two leaves symbol. The OPS faction even calls their new symbol "two lamps."