Yogi Adityanath endorses the concept of Hindu Rashtra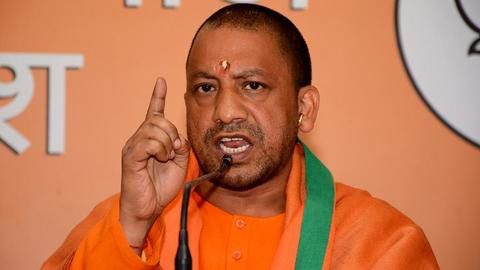 In an interview on Doordarshan, Yogi Adityanath, the firebrand UP CM supported the Hindu Rashtra theory.
He said there was nothing incongruous with such a move if it helped the people and the country.
He said that the Supreme Court too had defined "Hinduism as a way of life" and hence no one "should have a problem in accepting a Hindu nation".
In context
Yogi Adityanath rekindles the Hindu Rashtra issue
SC rules: Hindutva a way of life
In 1995, the Supreme Court had ruled on Shiv Sena leader Manohar Joshi's petition where he had promised to turn Maharashtra into a Hindu state. SC had said "Hindutva was a way of life" in India.
Yogi over Bhogi
Adityanath hails PM Modi in first live interview
In his first TV interview as the CM, Adityanath went on to claim that politics was meant for "yogis, not bhogis (ie for them who sacrifice, and not the greedy ones)".
He further said there was nothing wrong with being a Yogi and hailed Prime Minister Narendra Modi.
He said Modi too was a yogi as he had made "sacrifices" for the nation.
Love Politics news?
Stay updated with the latest happenings.
Notify Me
07 Apr 2017
BJP supports Adityanath's Hindu Rashtra comments
The BJP supported Yogi's comments about the Hindu Rashtra maintaining that the chief minister "had not said anything wrong".
The state BJP general secretary Vijay Bahadur Pathak that Yogi was right in his statements and for "too long we have been pseudo-seculars who frowned upon anything that is Hindu."
He further added that Hinduism has always stood for peace.
Yogi's free speech
The times when Yogi went too far to advocate Hinduism
In the past Yogi Adityanath has gone ahead and hailed the name change of places, giving them Hindu names like Gorakhpur's Miyan Bazaar became Maya Bazaar, Ali Nagar to Arya Nagar, and Urdu Bazaar to Hindi Bazaar.
Controversially, he had said that he wanted to place Ganesha idols in every mosque.
In June 2015, he's said those opposing Surya namaskar should drown themselves.