TN Health Minister Vijayabaskar's premises raided by IT department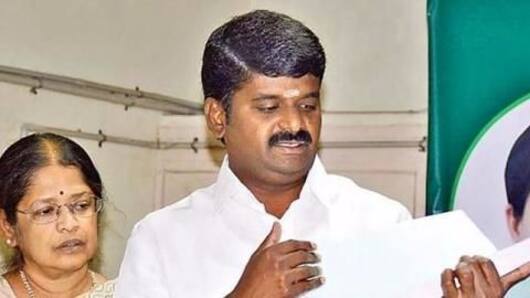 IT officials raided several premises of Tamil Nadu Health Minister C Vijayabaskar and his relatives following allegations that he had distributed cash to voters in RK Nagar constituency, which is headed for a by-election.
They also launched searches in properties belonging to All India Samathuva Makkal Katchi leader R Sarathkumar, former AIADMK legislator Chitlapakkam Rajendran, and vice-chancellor of Dr MGR Medical University S Geethalakshmi.
In context
Tamil Nadu Health Minister Vijayabaskar under IT scanner
Raids
Raids across Chennai, Trichy, Pudukottai
"We received complaints that (Vijayabaskar) was involved in distribution of cash to voters in RK Nagar," an IT officer said, adding his kin too were on their radar.
Searches started as early as 6 am in residences, colleges, stone quarries and more, across Chennai, Trichy and Pudukottai.
Four complaints have been lodged against the minister since bypoll date (April 12) was announced.
Vijayabaskar in the limelight
Vijayabaskar, who has been in the limelight since the recent AIADMK feud, is the first minister in recent times to come under IT scanner. Former TN CM O Panneerselvam accused him of conspiring with VK Sasikala and pressurizing him to quit.
Love Politics news?
Stay updated with the latest happenings.
Notify Me
09 Apr 2017
Tamil Nadu IT report may lead to by-poll being countermanded
After the Central Board of Direct Taxes submits its report, detailing the exploits from C Vijayabaskar's house, the R K Nagar by-election could get countermanded.
Countermanding of an election can be executed only if there is "more than one party involved in corrupt activities."
The IT department had conducted extensive raids in more than 35 places in the state right before the by-election.
10 Apr 2017
EC cancels RK Nagar by-polls over voter bribery, corruption
The Election Commission has cancelled the upcoming RK Nagar by-polls scheduled on April 12, quoting widespread bribing and corruption.
It said the by-elections will be held "in due course", when "the atmosphere in the constituency becomes conducive to the holding of free and fair election".
This comes two days after IT raided TN Health Minister Vijayabaskar's premises and recovered evidence of bribing voters.