Politics
Parties liable to fulfill manifesto promises: Says, CJI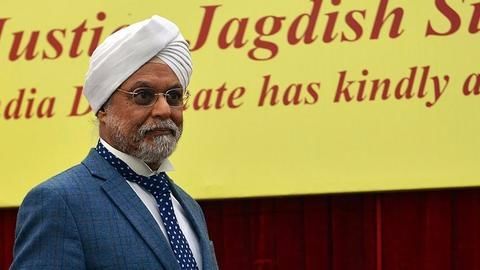 Chief Justice of India, Jagdish Singh Khehar on Saturday slammed political parties for making promises in their election manifestos that don't reflect socio-economic realities, as well as perpetrate caste politics. He added that political parties be held accountable for not keeping their promises.
Observing on the opportunist nature of election manifestos, he noted that they get reduced to "a piece of paper" after elections.
In context:
Electoral Reforms: Making non-fulfilment of electoral promises accountable
09 Apr 2017

Parties liable to fulfill manifesto promises: Says, CJI
"Economic Reforms with reference to Electoral Issues Seminar

The CJI along with President

Pranab Mukherjee

and Justice Dipak Mishra spoke at the seminar on Saturday. While Pranab Mukherjee noted the necessity of electoral reforms to strengthen Indian democracy, while Justice Mishra spoke on the candidates' ethical duties in elections.
Love Politics news?


Stay updated with the latest happenings.
Background

Why are manifestos important?
Manifestos are part and parcel of elections at every level. In relative terms, they help voters pit the pros and cons of a future ruling party and vote accordingly.
Treated similar to advertisements, campaign strategists paint colourful pictures through promises.
Marking no improvement in status quo, election promises remain unfulfilled and tend to be forgotten by the voters and the ruling party.
Checking for truth in the 2014 General elections manifestos
Highlights

What did Justice Khehar speak about?
Speaking on unfulfilled election promises, he noted that parties prepare manifestos with no links to socio-economic justice. He warned that the current legal system provides no recourse for non-fulfilment of promises made in election manifestos.
He outlined a trend on increased role of caste in elections, noting, "mobilization and politicization" of the social groups which were poor or disadvantaged and have remained politically dominant.
SC order to ECI on freebies in manifestos: 2013

Responding to a challenge against the Tamil Nadu government's provision of goods including laptops in the election manifesto, the SC held the practice in violation of the Parliamentarians code of conduct. Election Commission of India was subsequently directed to prepare a roadmap for the same.
Love Politics news?


Stay updated with the latest happenings.
Conclusion

Granting substance to election manifestos
Excuses including inability to build consensus have been raised by parties to evade fulfilling of electoral promises. Moreover, pointing out representative's liability towards manifestos, has not been legally backed in India.
In the interest of informed voting, manifestos should include both means of generation and end-use of wealth.
Whether Election commission's code of conduct on manifestos improves the situation remains to be seen.