Amarinder Singh: Won't meet Canada's "Khalistani sympathizer" minister Harjit Sajjan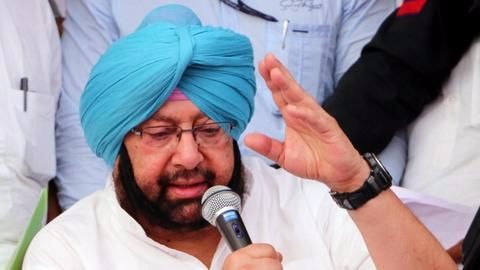 Punjab Chief Minister Captain Amarinder Singh said he won't meet Canadian Defence Minister Harjit Sajjan during his expected visit to India later this month.
"Harjit Sajjan is a Khalistani sympathizer and so was his father," Amarinder claimed on a TV news programme.
Amarinder also spoke candidly about issues such as the beef ban, India-Pakistan relations and electronic voting machines.
In context
Punjab CM calls Canada's Defence Minister "Khalistani sympathizer"
Profile
Who is Harjit Sajjan?
Harjit Sajjan, 46, hails from Punjab's Hoshiarpur district. He and his family moved to Vancouver, Canada, in 1976.
He served as an organized crime detective in the Vancouver Police Department.
He later joined the Canadian Armed Forces and was decorated for his three tours in Afghanistan.
He was elected MP in 2015 and subsequently became the first Sikh to become Minister of Defence.
Further allegations
Amarinder alleges "Khalistani sympathizer" ministers blocked his entry into Canada
"There were, in fact, five ministers in the Justin Trudeau government who were Khalistani sympathizers and I will not have any truck with them," he said during the programme.
In a press release, Amarinder said these ministers had "prevailed upon the government to prevent my entry into Canada, where I wanted to go to meet my Punjabi brethren and not to campaign for elections."
Love Politics news?
Stay updated with the latest happenings.
Notify Me
Canada denies permission for Amarinder to hold rallies following protests
In April 2016, Amarinder ended up cancelling his rallies in Canada after being denied permission following protests by Sikhs for Justice, a US-based human rights organization that advocates for justice to 1984 anti-Sikh riot victims. Amarinder had written a strongly-worded letter to Trudeau.
19 Apr 2017
Won't get into petty politics: Canada's Sajjan on Amarinder's remarks
Canadian Defence Minister Harjit Singh Sajjan, on a weeklong trip to India, refused to respond to Punjab CM Amarinder Singh's comments on him being a "Khalistani sympathizer".
Sajjan said he won't get into "petty politics" and harboured no "ill-will".
"It is my responsibility to offer (Singh) a meeting, and if he he doesn't want to meet me…that's for them to figure out," Sajjan said.