Budget session concludes: Bills passed, disruptions and more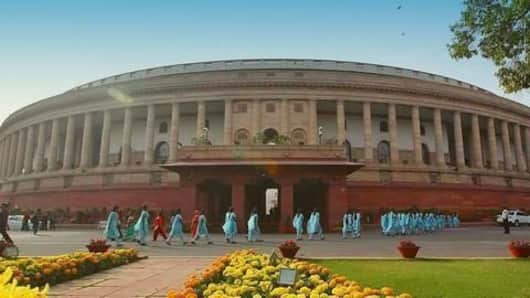 Parliament on Wednesday concluded its budget session, which passed landmark legislations including the four Goods and Services Tax (GST) Bill and the Mental Healthcare bill.
Being termed "Modi government's most effective session", the Lok Sabha worked over time during the session, while the Rajya Sabha worked for more than 136 hours.
Let us find out more on what happened during this session!
In context
Parliament concludes budget session
An outstanding session!
Starting in January, the two part session included 29 sittings spanning across 176 hours and 39 minutes. Disruptions cost 8 hours 12 minutes, Union minister Ananth Kumar further underlined the productivity of Lok Sabha and Rajya Sabha at 114% and 92% respectively.
First times
The Budget session
In a first, the Union budget was merged with the railway budget and introduced a month before, in February.
The Union budget structured around themes including infrastructure and digital economy, introduced cap on political funding and reduced income tax from 5 to 10% for the Rs. 2.5-5 lakh slab.
Under railways, it recommended to cancel service tax in e-tickets and commission 3500 km rail-lines.
Love Politics news?
Stay updated with the latest happenings.
Notify Me
Highlights
23 Bills passed
The Central GST Bill, the State GST Bill, the Union Territory GST Bill and the Integrated GST bill, will collectively merge multiple taxes into a single tax-system, is expected to be rolled out July 1st.
The Mental Healthcare Bill passed in March decriminalises suicide and banned electric shock therapy on children and mandated that adults be administered the same after anesthesia or muscle relaxants.
Double the maternity leave
The Maternity Benefit Amendment Act scaled up paid maternity leave from 12 weeks to 26 weeks. This is applicable to women employed in companies with more than 10 employees. The amendment puts India ahead of countries including Germany and France in maternity benefit packages.
Role of opposition
What did the opposition do?
Opposition stalled matters including the the Motor Vehicles (Amendment) Bill and the constitutional amendment to set up the Backward classes commission.
The former was interrupted when the opposition refused to discuss the matter in Rajya Sabha, stating it was not listed in the day's business.
The latter got stalled for three months as the opposition insisted on referring the amendment to a select committee.
Disruptions
Incidents including MP Ravindra Gaikwad's assault on an Air India employee have caused disruptions. BJP MP Mukhtar Ansari's denial of the Alwar lynching incident sparked considerable outrage, although he clarified it later. Sessions were also disrupted by the untimely death of MP E. Ahmed.