Politics
Akhilesh open to alliance with Mayawati?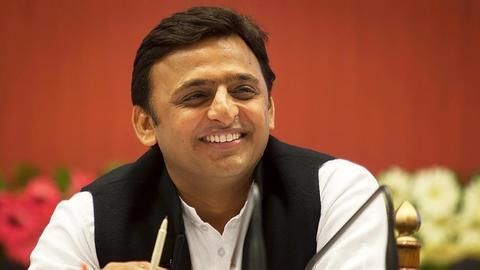 Akhilesh Yadav, in his press conference, announced that SP is open to any alliance to fight BJP. He said that BJP had spread lies during the election-campaign.
This statement by Akhilesh comes after a similar statement made by Mayawati yesterday.
These two statements have ignited the possibilities of a BSP-SP alliance.
He also spoke about EVM-tampering and suggested the polls should happen using paper-ballots.
In context:
The changing political face of Uttar Pradesh
Details

UP Elections Results: BJP sweeps UP, Yogi becomes CM
BJP scripted a landmark victory in UP. It won a total of 312 out of 384 seats it contested from. The vote-share for BJP stands at 39.7%
The SP-Congress alliance could only gather 54 seats with a combined vote-share of 28%.
BSP has 19 seats under its ambit, with a vote-share of 22.2%.
After much deliberation, Yogi Adityanath was chosen as the UP CM.
Mayawati says BSP open to forming anti-BJP alliance for 2019

"To keep democracy alive, I am ready to be part of anti-BJP front. We have to cut poison with poison. Due to tampering of EVMs, the voters won't be able to elect their favourite leaders," said Mayawati during Ambedkar's birth anniversary function on Friday.
Love Politics news?


Stay updated with the latest happenings.
15 Apr 2017

Akhilesh open to alliance with Mayawati?
17 Apr 2017

No alliance needed for SP: Mulayam Singh
Contradicting Akhilesh Yadav's statements on the Samajwadi Party being open to forming a national coalition, Mulayam Singh Yadav said the Samajwadi Party did not need a coalition to win any election.
Akhilesh Yadav and BSP supremo Mayawati had earlier given positive signals about a possible coalition.
However, MSY's statements come as a set back to any plans they may have had.
01 May 2017

Cong to contest UP civic elections without SP: Raj Babbar
UP Congress chief Raj Babbar dismissed possibilities of an alliance with the Samajwadi Party for the upcoming civic elections, after BJP routed the association in the recent assembly elections.
The party consulted several quarters in the last month - district level workers, assembly election winners, and those who secured over one lakh votes - before taking the decision.
05 May 2017

SP feud: Shivpal Yadav announces new party under Mulayam Singh
After months of feud within the Samajwadi Party, followed by a humiliating defeat in the assembly elections, senior party leader Shivpal Yadav has announced a new party called Samajwadi Secular Morcha; it will be headed by SP founder Mulayam Singh Yadav.
This comes after Shivpal warned a new party would be launched if Akhilesh Yadav didn't hand over the party's reins to his father.
Love Politics news?


Stay updated with the latest happenings.
06 May 2017

Shivpal didn't talk to me before announcing new party: Mulayam
A day after Shivpal Yadav announced a new party, SP chief Mulayam Singh Yadav said his brother hadn't even spoken to him since a week.
"He has simply given a statement. I will talk to him, pacify him," he said, adding no one wanted the party to split.
Shivpal yesterday announced the Samajwadi Secular Morcha after months of infighting within SP.