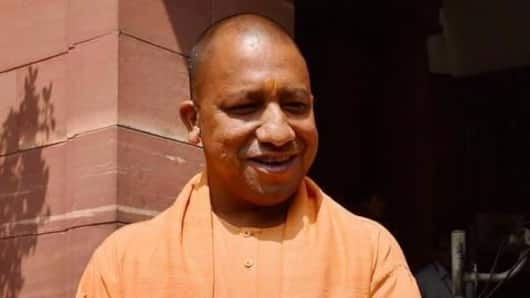 30 days of Yogi Adityanath: Promises, decisions and more
The BJP government in UP under CM Yogi Adityanath has completed 30 days in power. While Yogi's appointment raised many eyebrows, the Yogi administration has worked in lightning mode, pushing several key decisions over the past one month.
Decisions including crackdown on illegal abattoirs and instituting anti-Romeo squads, have equally drawn praise and criticism from various quarters.
Let us know more on Yogi's decisions!
Closing down illegal slaughterhouses
Yogi's move to shut down slaughterhouses not compliant with sanitary and environmental regulations, was perceived by some as hostile to minorities, while others highlighted environmental merits.
Communities involved in the trade have raised livelihood concerns and have further requested the government to give out pending licenses.
States including Haryana, Jharkhand and Gujarat followed suit, bringing in stricter laws against cow slaughter.
Remedying UP's law and order situation
Aiming to tackle crimes against women, the government decided to create anti-Romeo squads to address eve teasing. Critics of the decision argue that the squads would turn into moral police.
Over 100 policemen have been suspended under Yogi's bid to remove black sheep within the police force.
Yogi has further instructed the police forces to be tough handed with breaches of law and order.
Love Politics news?
Stay updated with the latest happenings.
Yes, notify me
Disciplining the bureaucracy
Yogi has made numerous decisions attempting to discipline the state's bureaucracy.
Starting with a ban on chewing tobacco products in government offices, Yogi further banned jeans and T-shirts in government offices. He also decided to install biometric punching machines and CCTV cameras to maintain punctuality in government offices.
He has also told officials to "either work 18-20 hours or leave".
Policies targeting farmers
Yogi has waived crop loans worth Rs. 36,359 crore, benefiting about 21 million small and marginal farmers.
He further directed the state's sugar mills to clear farmer's dues within two weeks, in order to pave way to opening new mills, which can employ and benefit farmers.
Helping potato farmers, government has announced measures to transit excess supply of potatoes to more profitable markets.
Metro rails and medical colleges
The government has approved the construction of a sports stadium in Ghazipur. Yogi has also announced metro rail projects in Jhansi and Gorakhpur. The government further plans to construct 25 medical colleges in the state in the next five years.
Triple talaq and mass wedding scheme
Careful not to let his Hindutva-image interfere with BJP's purported development agenda, Yogi government has formulated a mass wedding scheme targeting minorities. Yogi has also spoken out strongly against triple talaq.
The mass wedding scheme for girls from Christian, Muslim, Sikh communities proposed to be conducted with central assistance would provide a financial assistance of Rs. 20,000 to poor girls alongside providing free venue.
Yogi Adityanath's "no VIP" policy: Mulayam Singh now in trouble
Under UP CM Yogi Adityanath's "no VIP culture" policy, officials raided the Etawah home of SP chief Mulayam Singh Yadav and found he was using electricity eight times more than his daily allowance of 5 kW.
He also has unpaid bills of Rs. 4L.
Officials changed configuration to allow him 40 kW, but he will have to clear all dues by April end.
Yogi launches probe into top UP awards, recipients include Bachchans
UP CM Yogi Adityanath has ordered an investigation into the Yash Bharti award, given to the likes of Amitabh Bachchan, Naseeruddin Shah and Nawazuddin Siddique.
There have been allegations that the award, which carries Rs. 11L cash and Rs. 50,000 monthly pension, was being given out randomly during Akhilesh Yadav's rule.
If "misuse" is found, the monthly pension would reportedly be cancelled.
Install biometric attendance systems in govt offices: Adityanath
UP CM Yogi Adityanath has directed all government offices up to block levels to install biometric systems to record employees' attendance and working hours.
All panchayats should have boards put up detailing contact information of the village pradhan and status of ongoing work.
He also batted for piped water supply schemes for areas other than Bundelkhand.