PM Modi meets 13 BJP Chief Ministers for 12-point test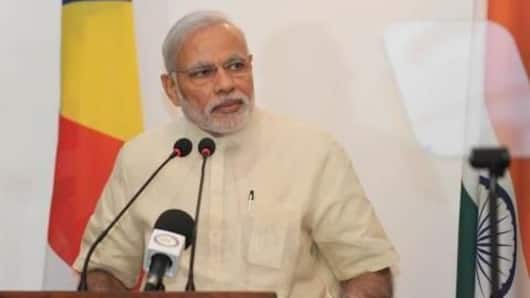 PM Modi held a dinner meeting with 13 Chief Ministers of BJP ruled states to assess their understanding of the party's agenda for governance.
The meeting is seen by political analysts as a preparation for the 2019 General Elections. The CMs were asked 12 questions by Modi and Amit Shah.
They reportedly gave separate presentations outlining the work in their states.
In context
PM Modi questions BJP CMs on governance
Why was the meeting conducted?
Party sources said "Modi is cautious about election victories leading to complacency. The meeting is to keep the party and the government on toes." He asked ministers to focus on how they could positively project their governance and policies.
Details
What were they asked about?
The CMs were asked various questions on issues of governance.
They were questioned on development initiatives in their states and pro-poor initiatives that may be implemented in their states.
Modi also sought to assess their mechanism for party-government coordination through resident commissioners.
He sought to know details of how far they implemented targets given to them in a similar meeting in 2016.
Love Politics news?
Stay updated with the latest happenings.
Notify Me
CMs
The CMs present their views
The Chief Ministers made separate 15-minute presentations each.
They briefed Modi and Amit Shah on their social media set-ups and how they were publicizing their government's work online.
They also spoke about how they were resolving ground-level issues raised by party cadre.
The meeting was also attended by Union Ministers Sushma Swaraj, Rajnath Singh, M Venkaiah Naidu and Nitin Gadkari.