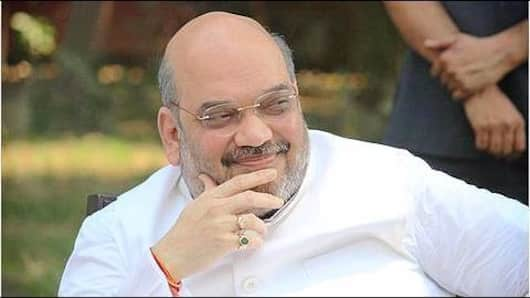 BJP in West Bengal: Amit Shah launches 'Mission Bengal'
BJP National President Amit Shah launched the party's expansion drive in West Bengal's Naxalbari village declaring progress and development would start from the place.
In a bid to expand BJP's footprint ahead of the 2019 general elections, he met with BJP workers and stated Trinamool Congress would be unable to stop PM Narendra Modi's chariot and the "lotus will bloom" in the state.
Long-term goal - 2019 General Elections
Credits:
With the next general elections only two years away, BJP has chalked out a plan to use a 'yatra' to implement its strategies.
Over the next 15 days, Shah will travel across five states to expand BJP's footprint in those regions where it has traditionally been weak.
The 'yatra' will next take the BJP National President to Odisha, Telangana, Tamil Nadu, and Kerala.
Left-wing extremism originated in Naxalbari
Amit Shah reportedly attended a BJP workers' meeting in Naxalbari in Siliguri.
Attacking WB CM Mamata Banerjee, Shah said, "Sonar Bangla (Golden Bengal) (is) becoming poorer by the day."
BJP's 'yatra' began from Naxalbari where the left-wing extremism originated in the late 1960s.
His visit to the village comes shortly after the Naxalites' deadly attack in Chattisgarh's Sukma district that killed 25 CRPF personnel.
Love Politics news?
Stay updated with the latest happenings.
Yes, notify me
BJP Chief Amit Shah's statement
"The Naxals had started their violent activities here at Naxalbari and now, development and progress will start from here. Under Narendra Modi's leadership, Bengal will very soon be on the path of development."
TMC Government not letting benefits percolate down to grassroots: Shah
Credits:
Shah alleged the Trinamool Congress-led WB Government is not letting central developmental schemes' benefits percolated down to the grassroots.
He said the state was once at the forefront of development but now lags behind.
He also alleged, "Unemployment is high and the TMC government is following the policy of appeasement (of minorities)."
He proclaimed this can't prevent BJP from winning in West Bengal.
BJP's strategy for emerging as an alternative
Shah claimed BJP will get the maximum seats in West Bengal.
Through its politically significant 'yatra' the party plans to implement its strategies for the local body elections next year in West Bengal.
An official said BJP would try to move to the second place in Gram Panchayats and a few Zilla Parishad.
It would signal to voters that it is an emerging alternative.
West Bengal Mamata Banerjee hits back at Shah
Hitting back at Amit Shah, West Bengal Chief Minister Mamata Banerjee stated, "We do not believe in the BJP's Hindutva which divides people. They are not Hindus. They defame Hinduism. They create communal tension in the name of religion."