Kapil Mishra: Kejriwal took Rs. 2 crore from Satyendra Jain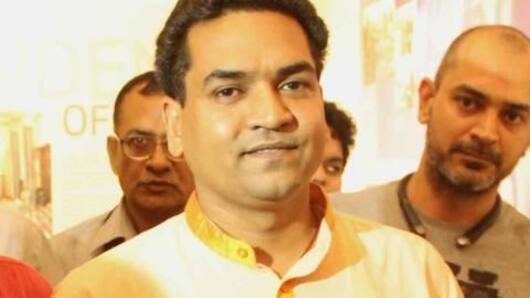 Sacked Delhi minister Kapil Mishra tweeted that he had "witnessed him (Kejriwal) taking illegal cash" and had conveyed all details to Delhi LG Anil Baijal.
Mishra was sacked by the AAP over irregularities in water supply and billing. However Mishra alleged it was due to his inside-knowledge of the water-tanker scam.
Mishra said Satyendra Jain had given Rs. 2 crore cash to Kejriwal.
In context
Is AAP imploding?
Water Tanker Scam
The water tanker scam: Overview
In 2012, Sheila Dikshit, the then chairperson of the Delhi Jal Board, had given tenders for procuring around 385 stainless steel tankers from private companies.
In 2015, it was revealed that the scam created losses of over Rs. 400 crore to the Delhi government.
Kejriwal was accused of delaying the probe, and an FIR was filed against him and Dixit by the Anti-corruption Bureau.
Kejriwal took decision unilaterally: Mishra
Kapil Mishra reacted to his sacking, saying Kejriwal did not involve the PAC in the matter. He said, "I was not informed of the decision as per my knowledge, it was taken unilaterally by Kejriwal. The cabinet or the political affairs committee was not involved."
Love Politics news?
Stay updated with the latest happenings.
Notify Me
Raid
Water tanker scam- ACB raids PWD engineer's office, grills Mishra
An ACB team raided the office of a PWD engineer in northwest Delhi over alleged irregularities in awarding tender to a construction firm owned by a relative of Delhi CM Arvind Kejriwal.
Sacked minister Kapil Mishra recorded his statement at the ACB; he was questioned for hours.
Mishra has alleged probe in the water tanker scam was influenced by Kejriwal and his associates.
12 May 2017
Lokayukta initiates proceedings in alleged Kejriwal bribery case
Lokayukta Reva Khetrapal has initiated proceedings in the Rs. 2cr bribery allegation made by sacked AAP minister Kapil Mishra against Delhi CM Arvind Kejriwal and cabinet minister Satyendra Jain.
Mishra has been summoned on May 19 to record his statement.
Neeraj, a member of Delhi BJP's legal cell who had filed the complaint, has recorded his statement.
20 May 2017
Satyendra Jain files defamation cases against Kapil Mishra, Manjinder Sirsa
Delhi Health Minister Satyendra Jain has filed two defamation complaints against sacked AAP minister Kapil Mishra and BJP-SAD MLA Manjinder Singh Sirsa for allegedly leveling false accusations of bribery.
While Mishra accused Jain of giving Rs. 2cr in cash to CM Arvind Kejriwal, Sirsa alleged Jain had asked for Rs. 7cr as bribe from someone.
The matter will be heard on May 29.
23 May 2017
Water tanker scam- Kapil Mishra summoned for questioning
The ACB summoned sacked AAP minister Kapil Mishra on May 23 to question him over the Rs. 400cr water tanker scam.
Delhi CM Arvind Kejriwal's Private Secretary Bibhav Kumar was questioned last week. Mishra had sought postponement due to "personal reasons".
Meanwhile, ACB raided premises of Kejriwal's brother-in-law Surender Kumar Bansal over the PWD scam and collected documents of his three companies.
26 May 2017
Kapil Mishra records statement against AAP
Sacked AAP minister Kapil Mishra recorded under oath his statement against CM Arvind Kejriwal and his aides' alleged corruption in front of Delhi Lokayukta Reva Khetrapal.
The various issues pertained to an alleged Rs. 2cr bribe Kejriwal took, funding of foreign trips by party ministers, AAP's involvement in the water tanker scam, and more.
He has been given two weeks to submit documentary evidence.