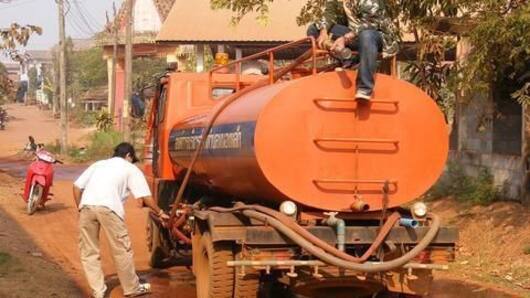 What is the Delhi Water Tanker scam?
In light of Delhi Minister Kapil Mishra's sacking, and his allegations of corruption within the AAP, the Delhi Water Tanker Scam has found its way back to the limelight.
The Rs. 400 crore scam dates back 2012, and allegedly involves corruption in successive governments in Delhi.
Mishra's latest allegations to the Delhi L-G also mean more political problems for the AAP.
The tanker scam: How it all started
Credits:
In 2012, Sheila Dikshit, the then chairperson of the Delhi Jal Board, had given tenders for procuring around 385 stainless steeltankers from private companies.
This then came into light in 2015 when the AAP government brought around a committee to investigate into the irregularities attached to this hiring.
Under the Delhi Water Minister, Kapil Mishra, a five-member team was formed to look into this.
Report alleges Rs.400 crore corruption in awarding tenders
The committee submitted the report in August 2015, bringing into light the corruption involved in hiring the water-tankers from a private company.
The report showed that a consultant based out of Hyderabad was appointed on a nomination basis, and this set back the government-owned Jal Board by about Rs. 400crore.
The committee requested that an FIR be filed against Dikshit against these corruption allegations.
Love Politics news?
Stay updated with the latest happenings.
Yes, notify Me
Mishra and Kejriwal
Delhi Minister Kapil Mishra, urged the Kejriwal government to take action against officials of Sheila Dixit's government, but Kejriwal allegedly delayed the probe.
Mishra alleged that Kejriwal was attempting to protect people within the AAP by delaying the probe into the matter.
He reportedly raised these concerns with Kejriwal, following which he was fired from the party.
Kapil Mishra records statement with ACB
On May 11, Mishra recorded his statement in the scam with the Anti-Corruption Branch. He reported he had presented supporting the involvement of two close aides of Delhi CM Arvind Kejriwal - Ashish Talwar and Vibhav Patel - in the matter.
Later, the ACB raided the office of a PWD engineer over alleged irregularities in awarding contracts to a firm owned by Kejriwal's relative.
Water tanker scam- Kejriwal's private secretary summoned by ACB
The Anti-Corruption Branch has summoned Delhi CM Arvind Kejriwal's private secretary Vaibhav Kumar on May 17 over the alleged water tanker scam.
Sacked minister Kapil Mishra will also visit the headquarters on May 15 to record his statement for the second time.
ACB said many more Delhi government officials would be probed in the case.