Politics
Kejriwal wanted to buy cable network to "control" media: Republic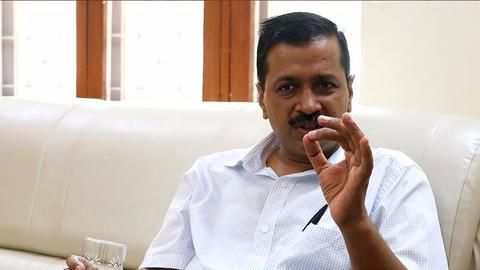 The crisis in AAP is far from over: the same day sacked minister Kapil Mishra alleged Arvind Kejriwal had taken hefty bribes, Arnab Goswami's Republic broadcast an expose on how he reportedly demanded crores of rupees from MLAs.
It has now emerged that Kejriwal allegedly wanted to buy a cable company to control media ahead of the Punjab elections.
In context:
This is how AAP will end?
Background

Electoral losses, frequent infighting: AAP collapsing?
A series of electoral losses marred the political face of the AAP in recent months.
Simultaneously, several junior AAP ministers began accusing the party's senior leadership of being disconnected with ground level problems.
There was more infighting over blaming EVMs for the party's defeats in various states as well as the MCD.
These events widened the political fractures in the party ranks.
Why?

The tussle between party members - Vishwas and Khan
Deepening the internal crisis in AAP, Kumar Vishwas slammed Delhi CM Arvind Kejriwal for blaming EVMs for the party's loss in the recent MCD polls.
After a series of backlash between Vishwas and Amanatullah Khan, Khan was removed to appease Vishwas.
However, more tussles are likely as Khan was then appointed in seven newly-formed committees of the Delhi government.
Love Politics news?


Stay updated with the latest happenings.
Details

Further bickering - What did Kapil Mishra say?
Earlier in the day, Kapil Mishra announced he had presented evidence of Delhi's water tanker scam to the anti-corruption bureau.
He alleged he was present when Health Minister Satyender Jain gave Kejriwal Rs. 2cr.
Jain also told him personally about a Rs. 50cr land deal, he added.
When AAP refuted the allegations, he said the party terms anyone who questions Kejriwal a "Modi agent".
AAP's response

Responding to allegations, the AAP said it was a conspiracy by the BJP, and called Mishra a "pawn". "If Kejriwal was taking a bribe, why would he call Mishra?" it questioned. It also asked why he hadn't provided details of the alleged bribery before.
08 May 2017

Kejriwal wanted to buy cable network to "control" media: Republic
Republic

Details about Republic's expose
Asim Ahmed Khan, another sacked AAP minister, told Republic that Kejriwal had demanded Rs. 5cr from MLAs, to buy a cable network at Rs. 25cr.
He has already incorporated a private limited company, Khan added.
The former minister also claimed to have evidence that Kejriwal wanted to use the cable company to control media during the Punjab elections.