Kejriwal should resign if he is guilty: Anna Hazare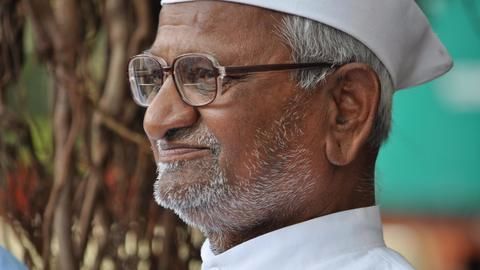 Anti-corruption activist Anna Hazare said he was "pained and hurt" by the allegations against Delhi CM Arvind Kejriwal, who was one of his closest aides during the Lokpal movement.
He added the CM should immediately resign if he is guilty.
"If he is not ready for a probe, then we will start a protest against him at Jantar Mantar," Hazare declared.
In context
Anna Hazare seeks impartial probe against Kejriwal
Probe
Hazare seeks "proper, impartial" enquiry into allegations
"I was expecting Arvind himself would come forward and say that he was ready for a probe. Besides, if he is confident that allegations are baseless, he should have filed a defamation case," Hazare said.
The activist recommended "an in-depth and impartial inquiry…by the higher authority".
"A proper and fast-track inquiry has to be conducted."
However, Hazare "doubtful" about timing of allegations, accuser
While accepting there's no guarantee someone like Kejriwal wouldn't be corrupt, Hazare raised questions on the way events unfolded. "I am doubtful about the timing and the person who has made the allegations. Why did Mishra maintain a studied silence for several days?" he asked.
Love Politics news?
Stay updated with the latest happenings.
Notify Me
07 May 2017
Sacked min Kapil Mishra alleged Kejriwal took Rs. 2cr bribe
Sacked Delhi minister Kapil Mishra tweeted that he had "witnessed him (Kejriwal) taking illegal cash" and had conveyed all details to Delhi LG Anil Baijal.
Mishra was sacked by the AAP over irregularities in water supply and billing. However Mishra alleged it was due to his inside-knowledge of the water-tanker scam.
Mishra said Satyendra Jain had given Rs. 2 crore cash to Kejriwal.
Allegations against Kejriwal a conspiracy by BJP, AAP said
Responding to allegations, the AAP had called it a conspiracy by the BJP, and called Mishra a "pawn". "If Kejriwal was taking a bribe, why would he call Mishra?" it questioned. It also asked why he hadn't provided details of the alleged bribery before.