'Has any soldier of Gujarat been martyred?': Akhilesh creates controversy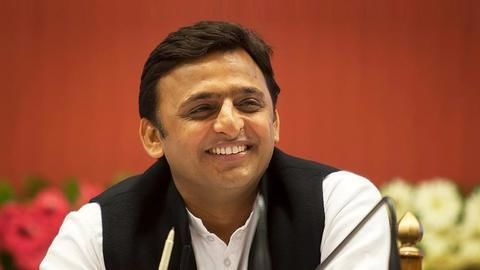 Former UP CM Akhilesh Yadav on May 11 created controversy when he asked if any soldier from Gujarat has been martyred.
The remark came during a discussion on killing of soldiers in Kashmir, after a 22-year-old unarmed army officer on leave was abducted and shot to death.
Ironically, Yadav said there should be no politicization of soldiers' deaths.
In context
Akhilesh's shocker: Why no martyrs from Gujarat?
Validity
Dissecting Akhilesh's statement: has there been any martyr from Gujarat?
As of March'17, Gujarat had 3,517 widows of servicemen.
Mukesh Rathod lost his life while fighting in the Kargil war. Captain Soni was martyred while fighting Pakistani soldiers at Siachen in 1987.
Lance Naik Gopal Singh Bhardoria and Major Ramani were both killed in Kashmir.
Meanwhile, in Kodiyavada village, more than one person from each of the 700 homes is serving in the forces.
But is representation from Gujarat actually low?
Former Captain Alap Desai, who retired in 2007, explained, "Lower representation of Gujarat has more to do with the cultural mindset of people here who have faced lesser wartime atrocities compared to Punjab, J&K or Rajasthan. Yadav's statement is not only wrong, but also crass."
Love Politics news?
Stay updated with the latest happenings.
Notify Me
Kin
Martyrs' kin lament 'political' statement
Akhilesh's comment drew flak from several quarters. Rajshree, widow of Mukesh Rathod, said martyrs belonged to India, not its states.
Geeta Ramani, mother of martyr Rushikesh Ramani, challenged: "I can give (Akhilesh) 10 names from Gujarat who died for the country."
Munim Singh, father of Lance Naik Gopal Singh Bhardoria, said, "Akhileshji has been voted out and he has lost decorum and mental balance."
Politics
Politicians too lash out at Akhilesh
UP minister Shrikant Sharma (BJP) condemned Akhilesh's remarks: "Akhilesh's statement is very saddening. He is unable to accept his defeat and so making such statements to vent his frustration."
Congress spokesperson Randeep Singh Surjewala, meanwhile, said, "Jawans belong to the entire nation, not to states. Instead of unfortunate spins to (get attention), please question the government on national security."