Politics
Expelled from BSP Siddiqui hits back, calls Mayawati a gangster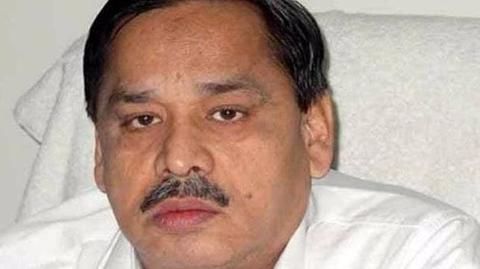 Expelled national general secretary of the BSP, Naseemuddin Siddiqui accused Mayawati of operating criminal gangs to quell voices of dissent within and outside the party.
Mayawati retorted, calling Siddiqui a habitual blackmailer. Siddiqui had called a press conference, making serious criminal allegations against Mayawati, and produced audio-tapes to prove it.
It is the latest sign of infighting within the BSP.
In context:
Now, BSP in turmoil
Dissent

Is the BSP deteriorating?
Sources said voices of dissent have grown stronger in the party after the recent poll defeat in UP.
Many party workers have rejected Mayawati's allegations of poll rigging, saying party leadership was poor. They also accused Mayawati of abandoning the dalit cause to appeal to more masses.
Several workers also accused her of favouring Muslim candidates over dalits and OBC candidates.
Expulsion

Mayawati expels Naseemuddin Siddiqui from BSP
BSP supremo Mayawati expelled national general secretary of the BSP Naseemuddin Siddiqui and his son from the BSP for alleged anti-party activities.
He was considered the Muslim face of the party. The BSP accused Siddiqui of accepting bribes, and possessing disproportionate assets and benami properties.
Last month he was shunted out as the party's UP chief.
Love Politics news?


Stay updated with the latest happenings.
12 May 2017

Expelled from BSP Siddiqui hits back, calls Mayawati a gangster
Allegations

What other allegations did he make?
Siddiqui alleged that Mayawati used gangs to enforce her will on people.
He said her gangs would "kill people, set houses afire, beat up rivals, break their cars and issue threats" on her directions.
He added her gang, set the house of former UP Congress Committee president Rita Bahuguna Joshi, on fire.
He said she demanded Rs. 50 crore from candidates after the elections.
Shall release all evidence: Siddiqui

Speaking to the media, Siddiqui said "I joined BSP in 1984 and served it since then. I am aware of all the illegal investments made by Mayawati and her brother Anand. I will release more proof of her illegal properties to the media soon."
BSP members

Other BSP members also corrupt
Siddiqui alleged that BSP's national general secretary Satish Chandra Mishra amassed disproportionate wealth through corruption.
He said "Hutments of 150 Dalit families were razed for the construction of Mishra's palatial bungalow."
He added that Mayawati's brother Anand owns illegal property worth Rs. 2,000 crore.
He said he has urged CM Adityanath to initiate a probe into the BSP.