Politics
Arnab's Republic TV reveals web of illicit transactions by Gandhis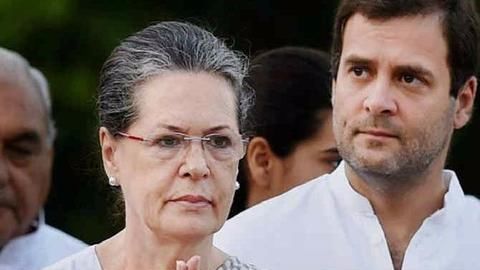 According to documents produced by Republic TV, Rahul Gandhi and Sonia Gandhi were the main benefactors of all transactions Young Indian was involved in.
They reportedly created a legal facade to withhold I-T disclosures. They even began engaging in real-estate businesses despite claiming to be "not-for-profit."
They used the company as a conduit to funnel money between the National Herald and the Congress Party.
In context:
Congress, National Herald and Young Indian
The National Herald saga

The National Herald: Its launch and history
Launched in 1938 by Jawaharlal Nehru, amidst political strife, the newspaper, The National Herald carried on it the line 'Freedom is in Peril, Defend it with All Your Might.'
The newspaper was run by Nehru, until he became PM, and served as a means to advocate his ideologies.
With its 1938 launch in Lucknow, it later branched into launching its Delhi edition in 1968.
01 Apr 2008

2008: National Herald shuts shop
In early 2008, discussions sprang up regarding the closure of the newspaper, and by April 1, 2008, the publication shut shop after bouts of turbulent financials.
The newspaper's dwindling revenues and outdated technology, were one among the many reasons for its closure.
It was said that the editorial section did not have a computer, while the press had to make-do with just about five.
Love Politics news?


Stay updated with the latest happenings.
The scam

2012: Controversies cloud the National Herald
In 2012, Subramanian Swamy filed a case against Sonia Gandhi and Rahul Gandhi, alleging that they had illegally acquired National Herald's assets worth about Rs. 5,000 crore.
Young Indian Pvt Ltd, a company run by Congress chief Sonia Gandhi and Rahul Gandhi paid Rs. 50 lakh to obtain rights to recover over Rs. 90 crore that National Herald owed the Congress.
What is Young Indian?

As per Congress, Young Indian Private Limited is an NGO. It is registered at Registrar of Companies, Delhi. The company now runs the National Herald newspaper. Directors of Young Indian are Sonia Gandhi, Sam Pitroda, Rahul Gandhi, Moti Lal Vora, Suman Dubey and Oscar Fernandes.
IT investigation

Delhi HC orders IT investigation of Young Indian
Dealing a blow to the Gandhis, the Delhi High Court ordered an Income Tax investigation into the finances of Young Indian Private Limited. Sources said Young Indian may approach the SC for relief.
The company stands accused of cheating and misappropriation of funds in the National Herald case.
BJP MP Subramanian Swamy filed the case against the Gandhis.
Congress: Young Indian is a 'not-for-profit'

The Congress challenged the jurisdiction of the I-T Department, maintaining that "Young Indian is a 'not for profit' company that only runs the 'National Herald ' paper which is the last vestige of the freedom movement which contributed to India's freedom struggle."
Love Politics news?


Stay updated with the latest happenings.
12 May 2017

Arnab's Republic TV reveals web of illicit transactions by Gandhis
Over Rs. 90 crore laundered by 50 companies

According to the documents, over 50 companies were involved in helping the Gandhis' launder Rs. 90.25 crore through Young Indian. Sonia Gandhi and Rahul Gandhi own 36% each in Young Indian.
---