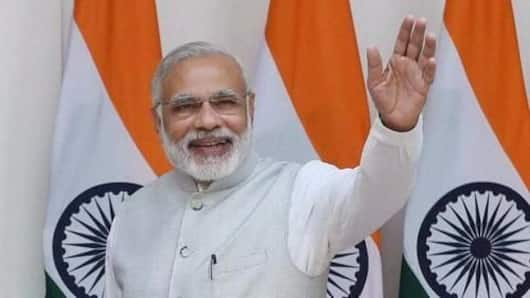 Modi government's third anniversary- BJP plans 'Modi fest', mass outreach
As the Modi government is set to mark its third anniversary in power on May 26, BJP has planned to hold 'Modi fest' and mass outreach programs targeting voters, to mark the occasion in over 120 cities.
The fest will highlight how "Modi brought India out of a state of despair" and also the government's key achievements including demonetization and the Army's surgical strikes.
What context is this being done in?
The Modi government has demonstrated remarkable political decisiveness with pushing policies including demonetization. Under Modi, India's voices have further started to get heard loud and clear at international forums.
Despite its achievements, segments of population have accused the NDA government of attempts to curb freedom of expression and saffronization of the Indian society.
The celebrations would further commence, BJP campaign for 2019 general elections.
Preparations- Ministers asked to prepare report card
The union information and broadcasting ministry had earlier asked ministers to prepare report cards highlighting the salient achievements of their ministries. Rajya Sabha MPs Chandan Mitra and Swapan Dasgupta were tasked with countering negative narratives on issues including freedom of expression and unemployment.
Love Politics news?
Stay updated with the latest happenings.
Yes, notify me
What is being planned?
Amongst seven programs planned for the anniversary, Modi Fest has been allocated the most amount of resources.
BJP leaders and representatives will attend meetings with beneficiaries and conduct awareness programs on the government's welfare schemes in over 303 districts, intending to reach out to voters.
They are also planning to spend 72 hours at villages in their constituencies, ahead of the anniversary.
What else has been planned?
Modi is scheduled to visit Assam on the anniversary day, while Amit Shah is scheduled to conduct a three day visit to Lakshadweep, from Tuesday. The PM is also expected to launch new welfare schemes and inaugurate the Dhola-Sadiya bridge near the Chinese border.
Can BJP media strategy bring it home in 2019?
Credits:
BJP's concerted focus dissemination and outreach can be seen in view of preparations for 2019 general elections. The Party clearly sees it as an opportune moment to do this in wake of its glorious performance in the recent state assembly polls.
However, efforts to stifle negative narratives on issues including demonetization, is eerily similar to its previous "India shining" campaign and could backfire.