I-T dept conducts raids over Lalu Prasad's benami properties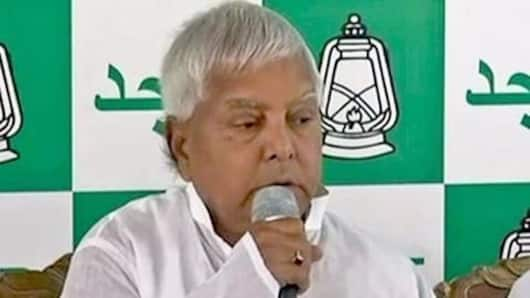 The I-T department conducted raids and surveys at 22 locations in Delhi and NCR, saying they were looking into alleged benami deals involving RJD chief Lalu Prasad Yadav, worth over Rs. 1000 crore.
The BJP had recently accused him of being part of several illegal land deals.
Union Minister Ravi Shankar Prasad demanded a government probe into the allegations.
In context
Lalu Yadav under I-T scanner
Allegations
What are the allegations?
Union Minister Ravi Shankar Prasad alleged that Lalu Prasad's daughter had failed to declare these assets in her declaration submitted to the Election Commission.
He added that the deals took place when Lalu Prasad was Railways Minister under the UPA government.
He asked Bihar CM Nitish Kumar to enact a special law to confiscate such illegal properties.
Prove allegations first, says Nitish
Bihar Chief Minister Nitish Kumar said "This is not an issue that falls in the domain of the state government nor in the company law of Bihar. If the BJP has documents, then it should take legal recourse to prove their accusations."
Love Politics news?
Stay updated with the latest happenings.
Notify Me
17 May 2017
Won't be cowed down by BJP's political vendetta: Lalu Prasad
RJD chief Lalu Prasad accused the Centre of a political witch-hunt after CBI conducted raids at 22 locations in Delhi-NCR over property deals worth Rs. 1,000cr allegedly linked to his family.
"Congratulations to BJP on its new alliance partners," Lalu tweeted. RJD clarified he was referring to the I-T department and CBI.
He also said he won't be cowed down "by BJP's political vendetta".
17 May 2017
Lalu's benami properties - RJD, BJP workers clash in Patna
Rashtriya Janata Dal and Bharatiya Janata Party workers clashed outside the BJP office in Patna, in light of the recent raids by the I-T department on alleged benami properties tied to RJD chief Lalu Prasad Yadav.
RJD workers were protesting against the BJP's calls for probe into the allegations.
Lalu Prasad Yadav had stated that "BJP doesn't have the guts to silence Lalu's voice."