Maharashtra minister Girish Mahajan seen at Dawood Ibrahim's relative's wedding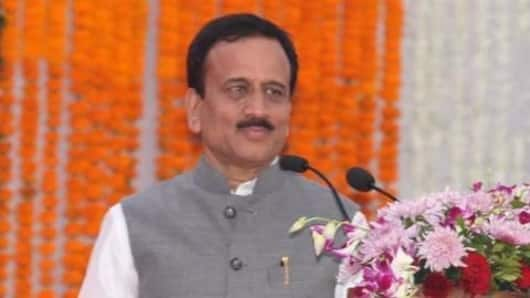 Maharashtra Medical Education Minister Girish Mahajan, reportedly a close aide of CM Devendra Fadnavis, was recently spotted at the wedding of gangster Dawood Ibrahim's wife's niece in Nashik.
Mahajan was accompanied by other prominent politicians.
Eight-ten cops were also present, including an assistant police commissioner.
While the policemen were questioned, it is doubtful if the elected representatives would be probed too.
In context
The Who's Who on Dawood's guest-list
Hosts
Who was the bride and the groom?
On May 19 was the wedding of Dawood's wife's niece. "Dawood's wife and the bride's mother are sisters," confirmed Nashik Police Commissioner Ravindra Singhal.
"No cases have been registered against the bride's family, nor is there a previous history," he added.
The groom, meanwhile, is the nephew of local Muslim leader Shahar A Khateeb, who has helped in "maintaining communal harmony and peace".
Who were the guests?
Mahajan was seen in the company of Nashik mayor Ranjana Bhanasi and deputy mayor Prathamesh Gite (both of the BJP), BJP legislators Devyani Farande, Balasaheb Sanap and Seema Hiray, and some local municipal councillors.
Love Politics news?
Stay updated with the latest happenings.
Notify Me
Probe
Cops questioned, but will the ministers too be probed?
Mahajan said he didn't know until after the wedding that the bride's family was related to Dawood.
The cops' statements have been recorded; according to sources, they confessed to attending the wedding only because of their relationship with Khateeb.
An enquiry has been ordered and all photos and videos of the wedding seized for investigation.
However, a senior official said they can't question ministers.