Manipur protesters lay to rest men killed two years ago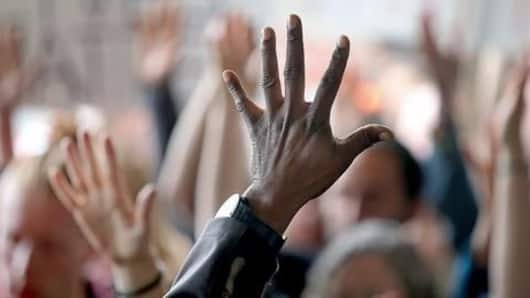 Tribals of Manipur, led by local leaders, laid to rest the bodies of eight men who were killed in police firing on August 31, 2015.
The bodies had been stored in the mortuary since then as a mark of protest.
On the fateful day two years ago, nine men were killed in Churachandpur when locals took to the streets to protest three "anti-tribal" bills.
In context
Manipur's protests against "anti-tribal" bills
Bills
What were the bills about?
On August 31, 2015, the Manipur Assembly passed the Protection of Manipur Peoples Bill, 2015, the Manipur Shops Establishments (Second Amendment) Bill, 2015, and the Manipur Land Revenue and Land Reforms (Seventh Amendment) Bill, 2015.
The official purpose was to protect the "indigenous people", but it angered the hill people, who claimed they were being sidelined and that their land could now be encroached.
Negotiation
An attempt at appeasement
In May last year, President Pranab Mukherjee rejected the Protection of Manipur Peoples Bill, objecting to its definition of "Manipuri". The other two bills were also sent back for reconsideration.
However, the Joint Action Committee (JAC), who was leading the protests, didn't call off the movement.
Among its demands were more autonomy for the hill areas, and making Lamka a full-fledged district.
Love Politics news?
Stay updated with the latest happenings.
Notify Me
MoU
Protesters reach truce with government
On May 10 this year, a memorandum of understanding was signed between the JAC and the state government.
The Home Ministry noted, "In the future, any new bill which affects the interests of indigenous tribal people, the government will follow due procedure… in consultation with all stakeholders."
The MoU also promised compensation to victims of the violence. The deaths will be investigated.
Ceremony
Eight bodies laid to rest with floral tributes, prayers
The body of the youngest victim, an 11-year-old, was buried in December'16 after an understanding with the then CM Okram Ibobi Singh.
On May 24, the other right bodies were taken on trucks to Lamka and laid to rest with floral tributes, prayers and speeches.
Many state cabinet ministers attended along with chief secretary O Nabakishore.