Why is Mamata Banerjee against the Teesta Water Agreement?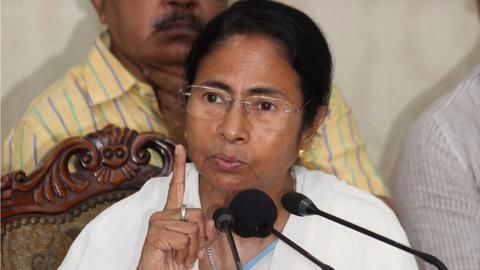 As both the centre and Bangladeshi government hope to sort out Teesta river water sharing soon issue, Mamata Banerjee indicated that the West Bengal government is not on board.
She is reported to have brought up the issue while meeting with PM Modi.
She had raised objections earlier during Bangadeshi PM Sheikh Hasina's visit to India and numerous times before.
In context
Can the Teesta water deal materialize soon?
Mamata tells Modi to take it up with Dhaka
Mamata is reported to have told Modi, "Bengal's experience of sharing Ganga water with Bangladesh is not good, as water shortage at the Farakka barrage causes the NTPC-run thermal power plant to shut down occasionally and the two ports in the state are impacted adversely."
Background
Teesta water sharing and India-Bangladesh relations
There are about 57 rivers flowing from India to Bangladesh including Brahmaputra and Teesta.
Although a water-sharing arrangement was instituted in 1983, decreasing water volumes in summers have complicated the issue.
Water sharing has been a flash-point in bilateral opinions, arising from differing opinions between domestic actors on both sides, including political parties.
Love Politics news?
Stay updated with the latest happenings.
Notify Me
Didi's opposition
Where is the water in Teesta?
A recent report revealed that Teesta only held 1/16th of the total amount of water required to irrigate agricultural lands in India and Bangladesh in peak summers. Mamata here is probably rightly unwilling to compromise on West Bengal's water needs.
Often asking "where is the water in Teesta?", Mamata has indicated her willingness to share water from rivers including Torsa, Raidak or Jaldaka.
Details
Where does Bangladesh stand?
Bangladesh is heavily dependent on Teesta's waters for irrigation, and stands to lose from Didi's refusal to share water.
Bangladesh further cites the rights of the lower riparian state, towards uninterrupted flow of rivers, under the Convention on the Protection and Use of Trans-boundary Waters.
Opposition parties in Bangladesh have used Mamata's opposition to force Sheikh Hasina government to make things difficult for India.
Feasibility
Possible solutions
Mamata's proposal to share water from other rivers would require the government to undertake a massive river inter-linking scheme, re-routing the waters from these rivers through Teesta. This may be a tad bit difficult.
Other solutions proposed for agreement include - implementing the Manas-Sankosh-Teesta project, diverting the waters of Manas and Sankosh rivers through link canals to Teesta and then provided to Bangladesh.
Analysis
Will Didi allow for the Agreement to be signed?
The Agreement in its present form is not likely to materialize, without the state of West Bengal on board. Exploring other options is further likely to be time-consuming.
Evolving political hostility between Trinamool and BJP will definitely not help anything.
It needs to be seen if Modi and Sheikh Hasina can push through opposition and arrive at a deal acceptable to most domestic groups.