Politics
Nitish Kumar attends PM's lunch after declining Sonia Gandhi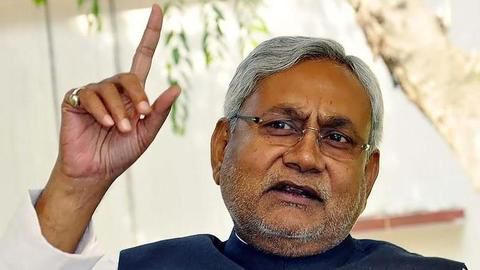 Bihar Chief Minister Nitish Kumar has accepted the invite to lunch with Prime Minister Narendra Modi.
PM Modi is hosting a lunch for Mauritian Prime Minister Anerood Jugnauth and Nitish Kumar is amongst the guests.
His attendance to PM Modi has sparked a massive political buzz with people thinking this to be an indication that Nitish might not support the grand alliance against BJP.
In context:
Is Nitish Kumar slowly moving towards Modi camp?
20 Apr 2017

Sonia meets Nitish, discuss grand alliance, presidential elections
Bihar CM Nitish Kumar met Sonia Gandhi to talk about a grand alliance to defeat the BJP in 2019.
The Bihar Chief Minister spoke to Gandhi regarding the need for a consensus from non-BJP parties for fielding a joint opposition candidate as the presidential nominee.
Kumar told Gandhi that he had already garnered Sitaram Yechury, D Raja and Sharad Pawar's support for this.
Is Nitish's silence speaking for him?

Rumours of split between Lalu and Nitish have been rife as Nitish has not come out in support of Lalu. Lalu and kin are under the scanner for benami property by the I-T Department and Kumar has kept mum on this issue.
Love Politics news?


Stay updated with the latest happenings.
26 May 2017

Nitish Kumar skips the united luncheon at Sonia Gandhi's residence
Bihar chief minister Nitish Kumar garnered media attention after he skipped the lunch hosted by Congress president Sonia Gandhi in Delhi.
Representatives of 17 parties had convened to discuss a unified strategy for presidential polls and alliance against the BJP.
Nitish Kumar sent senior leader Sharad Yadav in his place.
This signals towards a shaky grand alliance and that probably Kumar won't unite forces.
27 May 2017

Nitish Kumar attends PM's lunch after declining Sonia Gandhi
Nitish's praise for Modi

Arch-rivals no more: Nitish hails PM Modi at multiple occasions
Known as arch rivals in 2012 general elections, Nitish in the recent times have not been very critical of Modi.
In fact, Nitish Kumar was one of the few who had upheld Modi's notes ban agreeing that it would curtail black money and corruption.
While ruling himself out as the PM candidate, he claimed that he didn't have the ability as Modi.
27 May 2017

Don't read too much into the lunch: Nitish and Party
Nitish Kumar said media should not read much into the lunch invite.
He said that 52% people in Mauritius are from Bihar and hence he attended the lunch.
Kumar is going to meet Modi again to address the issue of de-siltation of the Ganga river.
Leaders of his Janata Dal-United too said that the lunch meeting does not weaken the chances of a grand-alliance.