AIADMK's Dhinakaran out on bail; to resume party work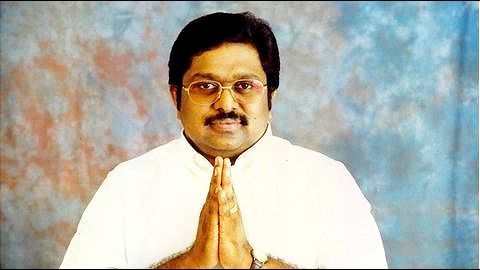 AIADMK Deputy General Secretary TTV Dhinakaran, who is out of prison on bail, returned to Chennai sending the message he is still the party's boss and would resume the work.
A month after announcing he would distance himself from party affairs, Dhinakaran asserted no one can remove him from the post conferred on him by his aunt and AIADMK General Secretary Sasikala.
In context
AIADMK- TTV Dhinakaran resumes party work
Dhinakaran's assertion
TTV's assertion leaves EPS camp perplexed
The E Palaniswami camp of AIADMK that earlier vowed to sideline Sasikala and her family members, was left perplexed by Dhinakaran's assertion.
Senior Minister Dindigul Sreenivasan endorsed Dhinakaran's statement while minsters Velumani and Sengottaiyan said only Palaniswami could react to TTV's stand.
Finance Minister Jayakumar, who was against the Sasikala family, said AIADMK Advisory Committee will take a call on TTV Dhinakaran.
Course of Action
Had been in jail after being arrested by Delhi Police
Dhinakaran is expected to visit Sasikala in Bengaluru prison to chalk-out his next course of political action.
He was "emboldened" by the presence of three MPs and 15 MLAs who called on him in Delhi after being released from Tihar jail in the Election Commission bribery case.
He was arrested for trying to bribe EC officials to reclaim the frozen AIADMK party symbol.
Love Politics news?
Stay updated with the latest happenings.
Notify Me
Dhinakaran plays down MLAs' visit
Playing down the visit by several MLAs upon his return, Dhinakaran stated: "All are my friends. I have been released after 40 days in jail. They have come here to welcome me due to affection. It has got nothing to do with politics or anything."
TTV's return
Already involved in party affairs, says TTV
When asked about resuming party work and involving in party affairs in Chennai, Dhinakaran questioned: "What again? I am already involved in party affairs. Just that I had to face this (arrest) in Delhi."
His aunt Sasikala re-inducted him to AIADMK and appointed him as the Deputy General Secretary the day she was to leave for Bengaluru's Parappana Agrahara prison.
Sasikala family ousted
On the sidelines of Sasikala's conviction in the disproportionate assets case and I-T raids on health minister Vijaya Bhaskar's premises, the EPS camp ousted the family. TTV Dhinakaran said the move was out of fear.
Two factions
Dhinakaran told to stay away
Dhinakaran was sidelined by AIADMK leaders amidst attempts to unite the party's two factions even before his arrest.
One faction was led by former CM Panneerselvam and the other by CM Palaniswami.
And then Dhinakaran was hurriedly appointed the Deputy General Security by Sasikala.
Panneerselvam then declared he would hold talks to unite the factions only if Dhinakaran was removed from the party.