BJP's expansion plans in the northeast hit by beef policy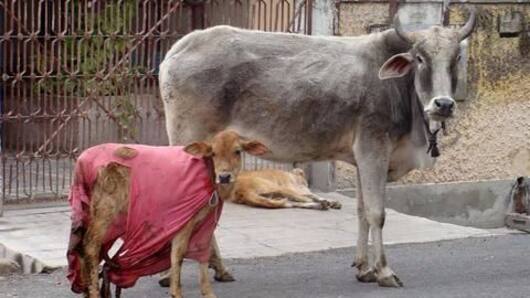 The BJP's expansion plans in the northeast have been hindered by one of their most controversial policies: beef ban.
Apparently, the party's leaders in Meghalaya wanted to celebrate the third anniversary of the Narendra Modi government with a beef-rice-beer party, but were denied by central leaders.
Two state leaders have resigned over the matter, accusing the party of "dishonoring my culture and traditional practices".
In context
'Cow' standing in BJP's way in the northeast
BJP's beef policy in the NE
Meghalaya, Mizoram and Nagaland have a large tribal and Christian population, for whom beef is a part of regular diet. Despite the BJP's strict rules on cow slaughter, it had assured there would be no beef ban in northeastern states.
NE
It's been slow-but-steady for the BJP in northeast
BJP's distancing from beef ban in northeast is an attempt to further its expansion plans. Recently, it made strides in Assam (it won power in 2016), Manipur (it formed coalition government), and Arunachal (the CM and 32 MLAs switched to BJP).
However, it is still to win in Meghalaya, Mizoram, Nagaland and Tripura, all of which will go to polls next year.
Love Politics news?
Stay updated with the latest happenings.
Notify Me
Meghalaya
Local leaders alleged BJP disrespecting culture
Bernard N Marak, BJP's West Garo Hills district president, quit last week after the party's leadership denied permission for a beef party. Bachu C Marak, the North Garo Hills district president, also resigned on June 5.
They claimed they were hoping to organize the beef party to dispel fears among locals that the BJP is infringing on traditional food habits.
Bachu said many members are contemplating leaving BJP.
Defence
BJP accuses sacked leaders of using beef as 'excuse'
Meanwhile, Meghalaya BJP in-charge Nalin Kohli said the leaders had been sacked due to "anti-party activities".
The central leadership has said beef parties were an excuse to quit the party ahead of the 2018 elections.
"Many political workers at the local level are trying to create issues so they can make it a convenient excuse to play the martyr card," Kohli added.
12 Jun 2017
Manipur Assembly passes resolution against Centre's cow sale ban
The Manipur assembly has passed a resolution against the Centre's recent ban on selling cows for trade, reported ANI.
This comes after at least two important BJP leaders resigned from the party in Meghalaya for allegedly "dishonoring culture and traditional practices".
Manipur has now formally opposed the new law and asked for its repeal.